Chennai-based Murugappa Group has bought out the entire stake of its Singapore-based partner DBS Bank Ltd in their financial services joint venture Cholamandalam DBS Finance Ltd (CDFL) for Rs 226.50 crore.
Tube Investments of India Ltd, part of the Rs 16,500-crore Murugappa Group, in association with another group company New Ambadi Estates has bought the stake. In 2005, DBS had picked up Chola shares at Rs 150 a share, becoming an equal equity partner in CDFL.
Both partners jointly announced in Singapore on Tuesday that they have entered into an agreement wherein DBS Bank's entire 37.48% stake is being purchased by Tube Investments of India (TII) and New Ambadi Estates at Rs 91 a share, representing a marginal premium of 70 paise a share on the CDFL's closing price of Rs 90.30 a share on the National Stock Exchange (NSE) on Tuesday.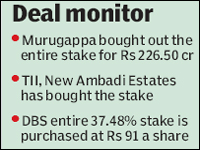 The partners announced that in view of the changing business dynamics and different approaches and business model of the company and after detailed discussions, it has been decided to part ways and focus on their respective priorities and growth strategies.
The transaction is expected to be completed on or before April 12, 2010.
Interestingly, the promoters of Chola DBS recently announced an issue of 2,000 unsecured non-convertible debentures of Rs 10 lakh each as subordinated debt up to Rs 200 crore on private placement basis in one or more tranches to one or more investors. The deal will take Murugappa Group's holding in CDFL to 74.96%. Tube Investments of India will hold 57.41%, up from 30.93%, in CDFL.
Murugappa Group executive chairman A Vellayan said: The move signifies our firm intentions and focus on the NBFC business. We will grow this business aggressively, exploiting the vast opportunity and leveraging our established relationships with dealers, OEMs, solid customer base and the group's large presence in the agri-business.
Chola DBS chairman MA Alagappan said: Chola is a strong brand. This consolidation is a great opportunity for the group to grow and re-establish Cholamandalam as the premier NBFC in the asset financing and wealth management space.