While Indias poor macro-economic environment continues to spook the countrys equity markets, attractive valuations as a result of the recent rundown and easing crude oil prices have prompted global investment banking major Morgan Stanley to change its stance on the Indian market.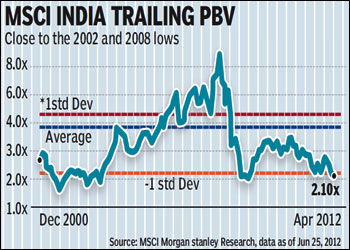 In its 18-page report, Morgan Stanley upgraded its outlook on Indian equities to equalweight after being underweight since the first quarter of 2011. It has set a Sensex target of 19,954 representing, an upside of 18% from current levels.
Our country quantitative model leads us to close out our long-standing underweight on India...Due to the significant recent under-performance, India is also favourably impacted in the technical part of our model. India is trading well below long-run average valuations, however, it is now close to trough valuations from the 2002 and 2008 cycles... Despite the poor top down macro-environment, MSCI India is currently enjoying an improvement in relative earnings revisions versus EM overall. the report stated.
The US-based financial major is looking at sectors like technology and consumer discretionary, opting for mid-cap and small-cap rather than large-caps. It continues to avoid state-owned banks. The top picks include Maruti, Infosys, ICICI Bank, Dish TV, Tata Motors DVR and Mindtree.
Meanwhile, according to the report, Indias model rank has risen to the ninth spot from seventeen. Indias scores improve for valuations, earnings revisions and growth, currency (oversold) and sector skew factors in the model.
On the absolute trailing Price/Book multiple, India is trading at 2.1x currently, which is similar to the level of 2.0.x seen at the trough of the cycle in 2002 and 2008. This is an indicator of the extent to which the Indian market is already pricing in the adverse global environment and the current domestic situation of high inflation and slower trend GDP growth, the Morgan Stanley report stated.
However, Morgan Stanley has reiterated that external funding vulnerability due to rupee depreciation, widening fiscal deficit, high inflation-low growth scenario, structural issues and European bank de-leveraging continue to be a huge concern for the market.
The investment bank and financial services major is the third such institution to upgrade its outlook within a span of one week, after JPMorgan and Deutsche Bank upgraded their respective prospects on Indian markets.
Deutsche Bank turned overweight on account of factors like resilient FII flows, earnings holding up in an otherwise dull investment environment. JPMorgan upgraded India to overweight citing factors like market valuations, declining oil prices that will reduce fiscal deficit and monetary stimulus that will lead to growth acceleration in late 2012.