Four days after missing its date with the country, the crucial South West Monsoon has finally hit Kerala.
"South West Monsoon has arrived," Indian Meteorological Department (IMD) Director General L S Rathore said today, after the weather officials studied the rain pattern in Kerala over the last two days.
Rathore said that there was "sluggish march" in the onset phase. Monsoon normally hits Kerala on June 1 but this year, Met department had predicted that it will hit the state on June 5.
Since yesterday, the MeT department had been keeping a close watch on the rainfall and the wind pattern in the region before declaring the arrival of monsoon.
"We have 13 stations in Kerala and one in Karnataka that have recorded more than 2.5 mm of rainfall over the past two days-- one of the most important criteria to declare its arrival," said Rathore.
Continuous rain for over 48 hours with a westerly windspeed of 15 to 20 knots is among two critical parameters for declaring the arrival of monsoon, which is crucial for the country and its agro-based economy.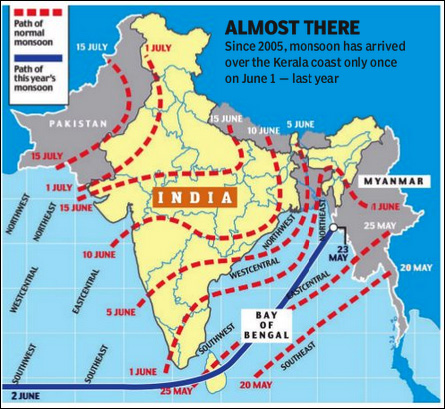 Rainfall occurred at many places over Kerala and at a few places over Lakshadweep and north interior Karnataka.
Isolated rainfall occurred over Coastal Andhra Pradesh, Rayalaseema, Tamil Nadu, Coastal and South interior Karnataka in the last 48 hours.
After four years of normal and above-normal monsoon, India is expected to have below normal monsoon this year with rainfall projected to be 95 per cent, which will be disappointing for the farming community.
Officials in the weather department had said the monsoon is expected to be below normal because of El-Nino effect, which is generally associated with the warming of ocean water.
Since 2005, monsoon rains have arrived over the Kerala coast only once on June 1 last year. Other years, the arrivals have been earlier or delayed by a few days.
Delay in arrival of monsoon rains for a couple of days is normal as the rains spread across three to four months, an IMD official said.
Monsoon rains covers most parts of the country during June and July. Even the rains in August and September are attributed to the monsoon phenomenon.
In recent weeks, concern has been raised about the adverse impact of El Nino on the monsoon rains. Once the monsoon enters the Kerala coast, we will monitor its progress closely as rainfall in June and July is crucial for kharif production, an agriculture ministry official said. The official pointed out that any delay in rains may not impact kharif crop output but it may delay sowing activities.
The first forecast by IMD in April had predicted monsoon rainfall at 95% of the Long Period Average (LPA), calculated on the basis of 50-year average rainfall of 89 cm in the June-September season of 2014. The IMD forecasts was just below the normal average of 96-104% of LPA.
The worrying aspect is that the first forecast had given 23% probability of a 'deficit' monsoon which implies rainfall below 90% of the LPA. The forecast had given 33% probability to 'below normal' monsoon (90-96% of LPA) and 35% chances of 'normal' monsoon (96-104% of LPA).
Monsoon rains are crucial for agriculture as about 40% of cultivable area is under irrigation and around 55% of foodgrain production, mainly paddy and coarse grains, is contributed by kharif or summer crop. Monsoon rains during the June-September period also help in boosting soil moisture for the rabi or winter crop.
Monsoon reaches India coast slightly later than usual
(Reuters) Monsoon rains reached India's southern coast a few days later than usual on Friday, offering relief to farmers eagerly waiting for the start of the wet season that is crucial for their summer crops.
But the slight delay in the monsoon's onset is unlikely to have a major impact on sowing of rice, pulses and cotton that has started in many growing areas of northwest and southern India, taking advantage of pre-monsoon showers.
The formation of a possible El Nino weather phenomenon, which can cause drought in South Asia, is only expected to have an impact later in the four-month rainy season.
"We don't foresee any El Nino impact in the first month of the monsoon season," said B.P. Yadav, head of the National Weather Forecasting Centre at the India Meteorological Department in New Delhi.
Last month, the IMD forecast a patchy monsoon season with a high chance of El Nino.
Weather officials on Friday confirmed the monsoon's onset - a decision that takes into account rainfall measured at weather stations in the southern state of Kerala and westerly wind speeds.
Rainfall was around 40 percent below average across India in the first week of the season. Progress northwards of the annual rains is expected to be slow and they are unlikely to cover half the nation by the first half of June.
Farmers have heeded the advice issued by the newly elected government to sow crops early this year to take advantage of pre-monsoon showers. They were also advised to use short duration seeds of cotton, pulses, corn and soybeans.
FIVE DAYS LATE
In 2013 the monsoon hit Kerala on June 1, two days ahead of the official forecast and in line with the long-term average. The season brought above-average rainfall across the country, resulting in a record grain harvest.
Rains are vital to rejuvenate an economy battling its longest economic slowdown since the 1980s and to cool inflation that has averaged nearly 10 percent for the past two years.
The farm sector accounts for 14 percent of India's nearly $2 trillion economy, with two-thirds of its 1.2 billion population living in rural areas.
Half of India's farmland still lacks access to irrigation. The country plans to expand irrigation coverage by at least a tenth by 2017 to cut its dependence on the seasonal rains.
Poor rains could hit summer crops such as rice, soybean, corn and cotton, raising food prices and pressuring economic growth that has nearly halved to below 5 percent in the past two years.
India's weather office had forecast the monsoon would arrive over Kerala on June 5, give or take four days.
The chance of dry spells in this year's monsoon is 40-45 percent compared to the usual 33 percent, said Andrew Colman, senior climate scientist at the UK Met Office.
Southern India, mainly parts of rice-growing areas of Andhra Pradesh, and cane areas of Karnataka and Tamil Nadu, received plenty of rains in May, providing a cushion against any delay in progress of the wind-borne monsoon rains towards the mainland.
Farm Commissioner J.S. Sandhu said contingency plans have been in place for around 500 drought-prone districts, if the monsoon fails to arrive on time.
The healthy showers prior to the monsoon season raised water levels in the country's reservoirs to nearly half-way above normal, he added.
Usually, the monsoon covers half of India by mid-June, and engulfs its entire landmass by mid-July.