India's monsoon rainfall in the key crop-planting month of July has been normal, recovering sharply after a 16% deficit in June, two sources in the weather office said on Tuesday.
Heavy showers, mainly in soyabean-growing areas in the past week, have narrowed to 7% the shortfall in total monsoon rains since June 1, raising hopes of a strong harvest in the world's leading consumer of rice, cooking oils and sugar.
The improvement in monsoon showers has given hope for above normal rains in August-September, said a senior official of the India Meteorological Department who did not wish to be named.
Rainfall has been well distributed over major crop-growing regions of the country, officials at the weather office said.
Good rains in the crucial month of July will help bumper production for summer crops, LS Rathore, head of the agricultural meteorology division of the weather office, said.
Vigorous monsoon rains will help rein in soaring inflation, which has stood in double digits for five consecutive months and has been rising after last year's monsoon delivered the weakest rainfall in nearly four decades.
India produced 218 million tonne of grain in 2009-10 with summer sown crops such as rice and soybean sharing nearly half of the output.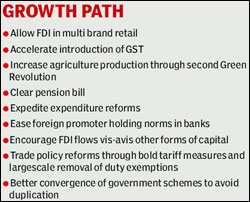 Last week, a top weather forecaster said the vital monsoon rains would narrow a shortfall in rainfall in the June-September period despite a lean patch in mid-July.
The weather office expects good rains in coming days as favourable weather conditions are expected to develop over the Bay of Bengal on the east coast in the next 48 hours.