On the last day of expiry of July derivative contracts, rollovers were healthy from July contracts to near-month August contracts. For Nifty futures contracts, rollovers were at 76%.
For other indices, Bank Nifty (83%) saw a higher rollover. It was lower for Mini Nifty (69%) and CNX IT(40%).
Rollover happens when one books profits or cuts losses on the current month contracts and takes up a new position in the next months contract. A higher rollover statistic is usually a positive indicator, as it points to higher risk-taking ability among market players.
For the Nifty stocks of Reliance(85%), Tata Steel(88%), HDFC(80%), Infosys(82%) and Bharti Airtel (86%) the rollovers were on the higher side.
Market participants say good rollovers were witnessed in sectors like sugar, auto, FMCG and cement.
The outlook for the sugar sector is bullish as sugar production in Uttar Pradesh and the northern parts of India looks robust. Most auto companies have reported good results and tractor and two-wheeler sales will get a boost if the monsoon turns out as expected, said a derivative analyst from Unicon Securities.
Oil&gas, fertiliser and the IT sector recorded below-average rollovers. Among individual stocks the same was seen in ONGC, HCL Tech and Colgate Palmolive.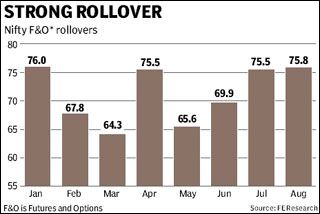 Siddarth Bhamre, head, derivatives, Angel Broking, said: HNIs and FIIs have a negative bias on index futures and positive bias on stocks futures. This suggests that bottom up stock picking is gaining ground. Interestingly, the open interest in terms of value was also higher.
This suggests there have been aggressive rollovers with very little directional headway for the Nifty and participants have been top heavy (or highly leveraged) on the open interest front, said a derivative analyst from Prabhudas Lilladher. This suggests that the market is expected to be range-bound in the near term.
The put call ratio (PCR) for index options was below average at 1.02. Highest open interest (15.91 lakh) was added at 5300 put and 5600 call (11.57 lakh), which again indicates that the Nifty will be range-bound between these levels.
The Nifty is trading at a high level and is primarily driven by global markets. I would say there is a downward bias for Nifty, said the analyst from Unicon Securities.