The Centres flagship programme ultra mega power project (UMPP) development continues to face several hurdles. Currently, the Centre has awarded four UMPPs of 4,000 mw each to the private sector at Sasan (MP), Mundra (Gujarat), Krishnapatnam (Andhra Pradesh) and Tilaiya (Jharkhand). Similar projects are being planned in Tamil Nadu, Orissa, Maharashtra, second UMPP each in Gujarat and Andhra Pradesh. The total investment in these projects is of Rs 1,80,000 crore.
Sources in the power ministry and Central Electricity Authority (CEA) told FE, States cooperation has been sought to resolve matters relating to the land and water allocation. Besides, giving the direct benefit of power for the development of state, other benefits such as infrastructure development such as building of roads, setting up of schools, hospitals, allied industries and generating employment are also made available to the people. Power ministry at its meeting held on November 15 sought cooperation of the states to resolve pending issues at the earliest.
Sasan project, which has been awarded to Reliance Power, is plagued with slow land acquisition process for power plant and coal mines. Reliance Power is in possession of only 1,874.65 acre (54%) out of 3,456 acre required for the power plant. In case of Mundra, which has been bagged by Tata Power, transfer of title of balance land to the developer is pending. Besides, there is a need to expedite the land acquisition for outfall channel and approval for closure of the Tunda-Wandh road cutting across the site. Facilitation letter for forest land to lenders is pending with district forest office. State authorities would have to speedily issue no objection certificate for creation of security in favour of lendeers for balance land.
For second UMPP in Gujarat, the state government has yet to submit the details of the proposed sites so as to enable team comprising representatives of CEA and Power Finance Corporation (PFC) to finalise the site.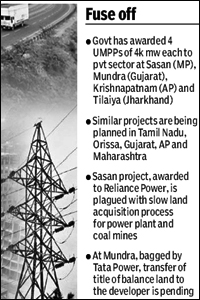 As far as Krishnapatnam project, which has been also bagged by Reliance Power, the process of acquisition of endowment land and APgenco and Andhra Padesh Industrial Infrastructure Corporation (APIIC) land is yet to be compled. In case of second UMPP in Andhra Pradesh, sources said CEA and PFC team would visit the site at Kotapeta and finalise it.
On the other hand, UMPP development in Maharashtra has been strongly opposed by almost all political parties at the proposed Munge site in the coastal Sindhudurg district. However, the power ministry has opined that resolution of agitation by locals would only facilitate visit by teams of CEA and PFC to Munge. In case of UMPP in Orissa, the state government has stipulated the contribution of 5% profit from the promoters of UMPP to be used for peripheral area development. The Orissa government has yet to respond to the power ministrys request to withdraw the condition.
Further, the site offered by the Tamil Nadue government for captive port at Paramankeni for the proposed UMPP has not been cleared by expert appraisal committee of infrastructure affiliated to the ministry of environment and forests. Alternate site at Panaiyur village has been inspected by CEA, PFC and Tamil Nadu department of environment. So far approval given by the Tamil Nadu government for port is conditional subject to NOCs from various departments like tourism, forests, highways and town and country planning and Tamil Nadu Pollution Control Board.