As part of its wishlist for the Budget, the urban development ministry has sought excise duty waiver for buses purchased by the state governments under the stimulus package. On-road prices of these buses range from Rs 40 lakh to Rs 70 lakh. The excise duty on buses is 8% now.
The Centre had announced a Rs 4,735-crore package for states to buy 15,000 buses for urban transport under the Jawaharlal Nehru National Urban Renewal Mission (JNNURM). This step was taken to boost sale of commercial vehicles whose demand had slumped during the recession.
If the finance ministry agrees to this proposition then stimulus package buses will come 8% cheaper to the state governments as the manufacturers would pass on the benefit to the states.
If we want an improved public transport system in India, there is a need to give incentives to the state corporations to buy more and more modern buses. In fact, the tax structure should be made in a way that city and state corporations end up paying zero taxes and this will boost demand for low-floor buses, Akash Passey, managing director, Volvo Buses India said.
The company, which bagged orders for 500-600 modern low-floor buses, has already delivered 80% of them. Volvo Buses India currently sells city buses, coaches and multi axle buses in the range of Rs 70 lakh to Rs 1 crore.
In case the finance ministry agrees to the recommendation of urban development ministry, it will give a big boost to the auto sector. If the Centre waives of excise duty on buses, which is currently at 8%, the overall pricing will come down and this will give a boost to demand so much so that the overall bus industry could see a double-digit growth in the coming months, Abdul Majeed, auto analyst and partner, Price Waterhouse said.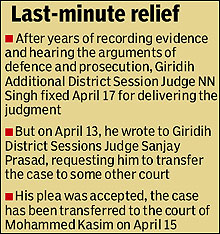 Out of 14,034 buses that have been ordered under the stimulus package under JNNURM, 4,883 buses have been delivered so far. Out of this Tata has delivered 2,279 buses, Ashok Leyland (1,825 buses), JCBL (117 buses), Volvo (309 buses) and Swaraj Mazda (353 buses).
In some states the bulk of the order has been supplied. Tamil Nadu has placed an order for 1,000 buses out of which 848 buses have been delivered. Out of the 1,300 buses that West Bengal had ordered 719 buses have been delivered.