The volume of cargo handled by Indian major ports dropped 2.6% to 545 million tonnes (mt) for the fiscal year ending March 31, 2013, compared with the previous year, according to data released by Indian Ports Association.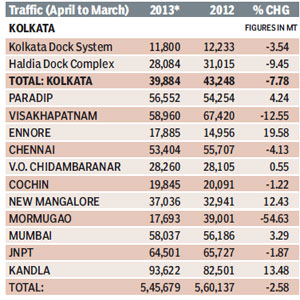 The traffic handled during the fiscal year ended March 31, 2013 is the lowest that the major ports have seen in the last four years, primarily due to a sharp drop in iron-ore exports.
The 12 major ports in India handle commodities such as crude oil, petroleum products, iron ore, coal, container cargo and fertilizers. India, which is traditionally the third-largest iron-ore exporter, saw 55% decline in iron-ore exports during the April-March period, from a year earlier. This was primarily due to a ban in mining in Karnataka, which accounted for a quarter of India's iron-ore shipments.
The country's largest port Jawaharlal Nehru Port Trust (JNPT) saw a 1.8% drop in yearly cargo, the data showed. While the traffic was lower than that of last year, we handled more cargo than what we had anticipated. The port worked at a capacity of 115%, L Radhakrishnan, chairman, JNPT, said. The steepest decline, during the year, was experienced by Marmugao port in Goa, where cargo traffic halved. The port was the country's largest iron-ore exporting port in India.
Contrary to slowing traffic in major ports, minor ports like Mundra Port and Adani Hazira Port in Gujarat have registered an uptick in cargo traffic. Mundra port, which is the largest non-major port, saw 33% higher traffic for the period ended March 31, 2013, compared to the year ago. According to Gujarat Maritime Board, which regulates all minor ports in the state, traffic at its ports rose 13% for year ending March 31, 2013.
"Minor ports, especially in Gujarat, loaded more liquid cargo like petroleum, oil and lubricants. They have less exposure to iron-ore," Hemant BhattBhatt, senior director, Deloitte India, said.
Most of the cargo from the northern part of the country goes through Gujarat ports. That is another reason for their higher traffic than major ports, BhattBhatt added.
The 12 major ports in the country handle about 65% of the India's external trade shipped by sea , and are spread over Kolkata, Paradip, Visakhapatnam, Ennore, Chennai, Tuticorin, Kochi, New Mangalore, Mormugao, Kandla, Mumbai and New Mumbai.