The Rs 1,300-crore IT solutions company, MindTree, on Thursday said it has received an application development and maintenance (ADM) services contract from Aadhaar, previously known as unique identification (UID) project. Rostow Ravanan, CFO of MindTree, said he would not like to disclose the value of the project.
The multi-year contract involves designing, developing, testing, maintaining and providing help desk services from the UIDAI?s Bangalore technology centre, the company said. The company's scrip on the Bombay Stock Exchange jumped by 3.41% to touch Rs 569.40 after the deal was announced.
Going forward, MindTree is hopeful of getting more such government contracts. ?This can open many more opportunities for us because the project involves a lot of implementations and supporting work in future,? said Ravanan.
Nandan Nilekani-headed Aadhaar is a government authentication or identification programme for every Indian citizen based on biometric verification. With a massive information base of 1.2 billion people and the ongoing collection, validation, issue and verification of identity, the project will require a sophisticated software implementation. MindTree will work as the development partner to build the Aadhaar application, in collaboration with the technology team of UIDAI and other stakeholders.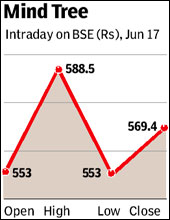 Anjan Lahiri, president and CEO of IT services, MindTree, said: ?It is not just a matter of business for us; it is an opportunity to serve the nation." Recently, the mid-cap IT solutions company announced a partnership with Carlyle Group, one of the world's largest private equity firms.