Microfinance Institution Network (MFIN)the self regulatory organisation of the of the micro finance organisation has demanded a comprehensive regulator for the sector to check indiscipline in the functioning of the sector.
MFIN comprises 31 non-banking finance companies (NBFC) MFIs including the top 10 MFIs. Speaking to FE Vijay Mahajan, president, MFIN, said it is time that the sector gets a regulator which will go beyond prudential regulations and cover all aspects such as prevention of over-lending , excessive profit and coercive recoveries and also grievance redressal of clients.
Flaying the ordinance on MFIs by the Andhra Pradesh government, Mahajan said the ordinance was anti-people. It will drive millions of poor households in Andhra Pradesh back into clutches of moneylenders. In fact, this ordinance gifts Rs 2,400 crore annually to moneylenders. That will be the extra interest the poor in the state will have to pay.
On high interest rates charged by MFIs, he said normally the MFIs charge an interest rate of 24% per annum as against 30% being charged by the moneylenders.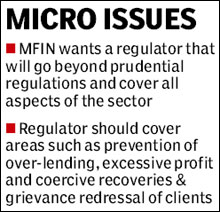 Unlike MFIs that reduce their interest amount as the borrowers start repaying the loan, moneylenders charge the entire interest amount in one installment. He suggested that as MFIs grow larger reaping economies of scale, they should pass on the cost of savings to their clients in the form of lower interest rate.
Still, I do agree that some of the big MFIs have not reduced their interest rate as yet and this has caused an adverse reaction from the public, government and the regulator as well, he said. However, he said self help group (SHG) model adopted by the banks to fund the poor can't help to provide credit in the real sense. The national average per borrower through SHG model is merely Rs 4,000-5,000. Though, it is true that MFIs depend on banks for raising 80% of their capital requirement, he said.
Meanwhile, state-owned Union Bank of India has said that the bank has got an outstanding of Rs 250 crore for 100 MFI accounts. I assure you that none of my bank's MFI client was charging an interest rate of more than 24%. We expect them to come out with an action plan to gradually reduce their interest rate in a phased manner. In case, we find them continuing to charge high rate of interest, we will not support them in future, said a senior official.