German Chancellor Angela Merkel will pitch for Siemens, which is vying for a prestigious railway locomotive project in India, during her talks with Prime Minister Manmohan Singh on Tuesday. Bombardier, GE and Alstom are also in the shortlist to submit financial bids to supply locomotives from the proposed unit at Madhepura in Bihar.
The R1,300-crore project is crucial for global locomotive suppliers, since it comes with a 10-year offtake assurance, giving an instant foothold to bidders in the lucrative Indian market.
The Madhepura plant has found mention in the agenda of discussions between Merkel and Singh. The project also figured in talks during the visit of heads of states of France and the US late last year. Merkel and Singh will also discuss a wide range of issues including selecting a new chief for the IMF, Indias fighter aircraft tender and terrorism.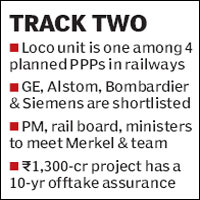 Given the importance of the Madhepura project for Siemens, its global president and chief executive officer Peter Loscher is also accompanying the German chancellor for the high-level talks. Merkel may raise this issue during her meeting with the Prime Minister, a senior Indian government official told FE.
Siemens had earlier asked the Railways to stick to the deadlines of calling financial bids saying that resources cannot be left unutilised for long, as the conglomerate took time-bound approvals from investors. Since then, the bidding date for Madhepura project has been postponed thrice and the new date has been fixed as June 10.
Indian government officials said that the Prime Minister's Office has also summoned three ministers of state in the railways ministry, namely Mukul Roy, KH Muniyappa and Bharatsinh Solanki along with the entire railway board to attend the meeting. This meeting will take place before the join plenary session with German government representatives and industrialists, one of the officials said.
The electric locomotive project is one of the Railways four public-private partnership big-ticket rolling stock projects.
The other three are the diesel locomotive project at Marhaura in Bihar, coach factory at Kanchrapara in West Bengal and the locomotive component unit at Dankuni in West Bengal. The project will not only provide a 10-year cushion to supply locomotives but also has provision to extend this clause up to 50 years. However, beginning this year, the railway board has gone into a huddle to finetune the project documents to prevent undue benefit to any of the bidders for these projects. The delay of more than a year has already invited threats of pullout by the shortlisted bidders. This is the Railways' second attempt at bidding out the project, which was originally planned in 2007 during the tenure of the then railway minister Lalu Prasad. Later, the Union cabinet asked the Railways to implement the project as a departmental unit. In February 2010, the cabinet again gave the approval to award the project in PPP mode.