To give teeth to investor redressal mechanisms, the ministry of corporate affairs is planning to set up an entirely new affiliate office with statutory powers to look into such investor concerns.
To be developed on the lines of other MCA subsidiary bodies like the Competition Commission of India (CCI) and the Serious Fraud Investigation Office (SFIO), the new entity would be a completely new authority looking at ways to compensate investors in the backdrop of a corporate scam.
MCA officials told FE that this formed a part of the governments initiative to strengthen investors and create a suitable mechanism to address investor grievances. The new entity, the name for which is still being decided, would look into financial compensation of investors, class action suits against companies and complaints against company directors. It would also initiate investor education programmes.
The move comes barely a week after parliamentary standing committee (PSC) chaired by former union finance minister Yashwant Sinha proposed setting up of an Investor Education and Protection Fund (IEPF) to compensate investors directly who have been duped by corporate houses.
The proposal of setting up a new subsidiary unit has stemmed from the recommendations of the PSC. We now want to take it a step further and establish a new office with a new set of recruits who would be totally dedicated to the purpose of investor protection, a senior government official who did not wish to be named told FE.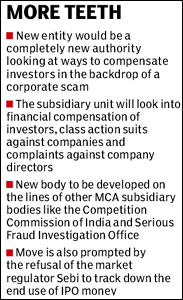 Sources said that the move was also prompted by the refusal of the market regulator Sebi to track down the end use of IPO money, a proposal that was mooted by the corporate affairs ministry in March this year.
At present, the full scope of monitoring the end-use of IPO proceeds is still unclear. Both MCA and Sebi share the responsibility, but they do it individually. Sources said the MCA would have a wider mandate, which formed an integral part of investor protection.
Following the Rs 8,000 crore Satyam scam that rocked India Inc the corporate affairs ministry under Salman Khurshid has been working on various mechanisms to strengthen retail investors and restore investor confidence.
For instance, corporate affairs ministry is tweaking the disgorgement clause in the Companies Act to nail erring companies. Apart from this the government is also likely to make audit firms which have been guilty of cooking company books liable to compensate duped investors.
Khurshid had first mooted this idea to FE in an interview. We are looking at how a person/investor who suffers due to audit firms going wrong can be compensated. We need to find a solution to fix the problem for the future. We may not have had a solution in the past, but we need one for the future, Khurshid had said.