The ferocious protests and agitations against the land acquisition process for the Yamuna Expressway project at Tappal, in Aligarh, has finally started making its impact felt in other parts of the state as well. Almost two and a half years after the Uttar Pradesh government had kicked off plans for the expansion of the Dr Bhimrao Ambedkar airstrip in Meerut, the administration has pulled back from the process and has canceled the process of land acquisition for the project with immediate effect.
As a result, no further work on acquiring land for the project, nor any other work in this regard will be done.
It may be mentioned that the state government had proposed an international airport at Meerut as the present air strip is used only for unscheduled flights. The project was to be implemented through public private partnership (PPP) on a design, build, finance, operate and transfer basis. According to sources in the government, the project was high on the chief minister Mayawati's agenda.
As per a study conducted by RITES, an expansion plan for the airport was being proposed on more than 100 acre of land and for this, the government has given an order for acquiring 30 acre of land from about 30 farmers of the area in the first phase.
Only recently, the civil aviatoin department had issued a notification to to acquire the land under the emergency clause and the administration had just about notified the names of the persons whose lands were to be acquired when this Aligarh incident happened. As a consequence, the civil aviation department has, without citing any reason, immediately canceled the land acquisition process for the 30 acre, said an official on condition of anonymity.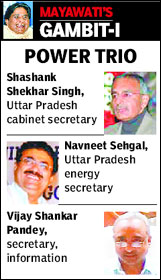 The need for a second airport on the fringes of the national capital region has been a long standing demand of the Uttar Pradesh government, especially in view of the burgeoning air traffic at the Delhi airport. The Delhi airport is congested with virtually no possibility of extension, said the official, adding that an Airports Authority of India study shows that by 2015-16, the estimated air traffic at the IGI Airport will hit 108 million, which will add to the air congestion.
The proposed Meerut airport will not only cater to the industrial towns of western UP but would also be of immense relief to neighbouring Uttarakhand. The Meerut airport will not only connect western UP to the other parts of the country but will offer an alternative to people of this part of the country who would want to travel overseas, said the official.
It may be mentioned that with the farmers agitation turning violent in Aligarh and anti-land acquisition protests gathering more steam, a panic-stricken and cornered Uttar Pradesh government has started backing out on all projects in which land acquisition is necessary. These include projects that the state government was aggressively pursuing as part of its PPP policy.