In a significant step forward the Uttar Pradesh Cabinet cleared the request for proposal (RFP) and draft concession agreement for the 150-km-long, eight-laned access controlled prestigious Upper Ganga Canal Expressway project which is to be built on Public Private Partnership (PPP) on Friday.
The expressway would connect Uttar Pradesh, from Sanauta Bridge in Greater Noida to Purkazi, on the Uttarakhand border. The Cabinet also put a stamp of approval on the project cost, the bid parameter, the concession period, the land parcels as well as the toll policy of the project.
As a consequence, the date for submitting financial bids for the project has now been fixed for August 5 and all the seven companies, which had submitted technical bids for the project in March and had participated in the pre-bid meetings, will be eligible for placing the financial bids.
While Jaypee Associates, IRB Infrastructure, ESC Apollo and Isolux had submitted bids individually, Reliance Infrastructure and Reliance Infra Ventures had formed a consortium to bid for the project as did Shreya Infrastructure with PNC and Galstar and Era Infrastructure with Sidmost.
What is interesting is that when the project was first mooted, navigation on the canal was an integral part of it and therefore strengthening the canal by rehabilitation and renovation of the existing infrastructure to facilitate navigation was part of the project cost.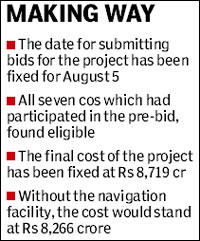 While the final cost of the project, alongwith the navigation facility has been fixed at Rs 8,719 crore, without navigation it would stand at Rs 8,266 crore. This is a significant escalation from Rs 6,200 crore alongwith the navigation facility, which was estimated when the project was first mooted.
It may be mentioned that in order to make the project viable and woo the private sector, the Mayawati government has tried to add sweeteners in the form of giving free land and land parcels to the developer to make it attractive. The cabinet gave its approval for 867 hectare of free land to be given to the selected developer as right of way (ROW) for the trunk expressway, for which the developer will not have to pay any stamp duty either. The concession period has been fixed at 35 years and the toll tax will be fixed once the expressway is complete as per the state governments toll tax policy.
We intend to select the developer by the end of August and have set a timeline of 42 months for completing the expressway from the date of the developer achieving financial closure (April 1, 2011). We should have the expressway rolling by the end of 2014, said an official.
The government has also packaged seven hydro power projects on the bank of the expressway to the selected developer as a sweetener.