BSE Sensex rose to a record high for a fourth straight session on Thursday, as state-run lenders including
State Bank of India (SBI)
extended their recent gains on broker upgrades and on hopes of some easing at the central bank's policy review on Tuesday.
The NSE Nifty index rose as much as 1.1 percent to an all-time high of 6,673.95, while the benchmark BSE Sensex index gained 0.96 percent to a lifetime high of 22,307.74.
State Bank of India provisionally rose 2.2 percent, while Punjab National Bank ended higher 2.4 percent.
The BSE index provisionally closed 0.48 percent higher, while the NSE index gained 0.58 percent.
Check Updates: Markets Top Gainers, Markets Top Losers
3:50 P.M. Sahaj Agrawal, Deputy Vice President- Derivatives Research, Kotak Securities:
Nifty gained significantly in the March series. An initial upmove in the index was followed by a period of consolidation. The series ended on a positive note with the index testing 6650 levels. Rollover in the index is not very aggressive. This could result in profit booking / consolidation for the April series. Options concentration for April is seen at 6700 call and 6400 put strikes. We remain positive on the markets and advice accumulation on any meaningfull corrections. IT stocks can be accumulated gradually for a turnaround from current levels. We remain positive on select Energy and BFSI stocks amongst others.
3:28 P.M.: Banking and capital goods stocks lead gains with State Bank of India gaining 4.5 percent after Goldman Sachs upgrades the stock to "buy" from "neutral". The rally is supported by continuous buying from foreign institutional investors, who bought Indian shares worth 10.04 billion rupees ($166.97 million) on Wednesday, provisional exchange data shows.
3:26 P.M.: The ZyFin Consumer Outlook Index of India (COI) witnessed a mild decline of 0.4 points in March 2014 over the last month. This has been primarily due to a slight decrease in willingness to spend among Indian consumers.
3:15 P.M.: WPP's JWT buys majority stake in India-based Social Wavelength
3:02 P.M.: The Competition Appellate Tribunal today dismissed the appeal challenging fair trade watchdog CCI's approval for the Rs 2,060 crore Jet-Etihad deal, saying the appellant does not have "locus standi" to file the plea.
3.00 P.M.: Shriram City Union Finance's Rs 200 crore non-convertible debentures (NCDs) will open for subscription on April 16.
2:40 P.M.: Larsen & Toubro (L&T) wins housing contracts worth Rs 1,981 crore - Construction major L&T has won contracts worth Rs 1,981 crore in the housing sector this month, including a major order in Bangalore. "The Buildings & Factories Business of L&T Constructions has won new housing orders worth Rs 1,981 crore in March 2014," the company said in a filing to the BSE.
1:52: Lupin buys Mexico's Laboratorios Grin; forays into LATAM mkt - Drug major acquired Mexico's Laboratorios Grin, a leading player in ophthalmic products, for an undisclosed amount, marking its foray into the Latin American country.
1:10 P.M.: NEWSFLASH - SC proposes any person associated with India Cements Ltd will not be involved with BCCI
* Supreme Court proposes that Chennai Super Kings and Rajasthan Royals should not be part of IPL 7
* * SC proposes Sunil Gavaskar as interim President of BCCI in place of N Srinivasan till it gives final verdict in the matter
* SC asks BCCI to come up with its response on its proposals tomorrow.
12:30 P.M.: NEWSFLASH: Fire reported in Haryana Governor plane; no injuries reported; Beech Craft B200's control system got jammed. Governor Jagannath Pahadia and nine others safe.
12:25 P.M.: Shares of PSU banks Punjab National Bank (PNB) (3.09%), Bank of Baroda (2.60%) and State Bank of India (3.50%) gain after Goldman Sachs upgrade. The brokerage says that stressed assets are likely to decline as the economy improves. Brokerage upgrades SBI and Bank of Baroda to 'BUY' from 'NEUTRAL', while it upgraded Punjab National Bank to 'NEUTRAL' from 'SELL'.
The SBI scrip was trading at Rs 1829.70, the PNB scrip was trading at Rs 700.30, while shares of Bank of Baroda were trading at Rs 696.45, at 12.00 pm IST.
11:58 A.M.: Experts warn that the markets could be volatile. "The markets may witness volatility ahead of March derivative segment expiry on Thursday. Easing tension in Ukraine and positive global data points could support the market," Standard Chartered Securities analysts said.
"We may remain positive as long as the NSE Nifty holds 6,460 level. NSE Nifty may touch 6,800 in the medium term. Support is at 6,540 and 6,460," the note added.
11.45 A.M.: Higher FII flows towards India logical but quick reversals may happen, say experts
11.40 A.M: Foreign investors bullish on India as rest of BRICS disappoint and future cloudy
11.10 A.M.: S&P BSE Sensex up over 114.07 at 22,209.37; Suzlon Energy (4.38%) major gainer
Also read: Live: Search flights called off due to severe weather, hunt for Malaysia Airlines jet debris postponed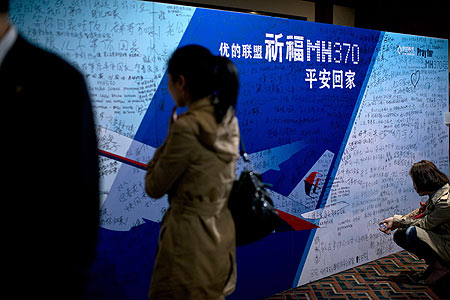 Hopes and prayers written by relatives of those onboard Malaysia Airlines MH370 jet are seen on a board at a hotel in Beijing, China. Some of the wishes read, "Dear husband, you must stay strong, I am waiting for you. My dear, please be back soon." (AP)
10.40 A.M.: BSE Sensex up over 90 points 22,189.84 and Nifty at 6633.75; HPCL and Motherson Sumi lead gainers
10.10 A.M.: BSE Sensex up 83.23 points at 22,178.53, NSE Nifty up 30.70 points at 6,632.10; Biocon scrip among top losers in BSE Sensex
10.10 am: Gold price down Rs 39.00 at 28,532.00
10.05: Indian rupee at 60.21 to a US dollar
09.50 A.M.: Indian rupee at 60.21 to a US dollar
09.40 A.M: BSE Sensex at 22,133, NSE Nifty at 6,612
On Thursday, the markets started on the positive note with among Motherson Sumi and Indian Oil Corporation top gainers.
The benchmark BSE Sensex rose almost 63 points on sustained buying by funds and retail investors ahead of the monthly expiry in the derivatives segment.
The 30-share barometer, which had gained 40.09 points in the previous session, moved up by 62.65 points, or 0.28 per cent, to 22,157.95, with stocks of healthcare, realty, power, auto, metal and banking sectors leading the rise.
Also, the National Stock Exchange index Nifty gained 6.60 points, or 0.10 per cent, to 6,608.00.
On Wednesday the rhythm and the momentum was retained by the stock markets which clambered to new highs. The feelgood factor has experts indicating more good news is to follow, albeit volatility may spike.
09.15 A.M: BSE Sensex opens higher at 22,118.18
09:10 A.M.: BSE Sensex at 22,116 in pre-open
09.00 A.M: Indian Rupee opens lower at 60.24 to US dollar against Wednesday's close of 60.14.
09:00 A.M.: BSE Sensex up 22 points at pre-open
08:30 A.M.: Deutsche Bank says the rally in Indian mid cap stocks, which have risen 30 percent since August, compared with a 19 percent rise in BSE benchmark index, can extend to catch up on significant underperformance it saw in last three years versus the large caps
08:00 A.M.: Nifty futures traded on the Singapore Exchange are up 0.11 percent, while the MSCI-Asia Pacific excluding Japan index falls 0.15 percent..
08:15 A.M.: Asian markets were in skittish mood on Thursday following a late dip on Wall Street, with Tokyo stocks slipping as investors counted down to a rise in sales tax that is expected to swat consumer spending and test the market's faith in Abenomics.
Overnight: U.S. stocks fell on Wednesday, led by losses in the technology and materials sectors, as geopolitical concerns rose after the United States and the European Union agreed to work together on tougher sanctions on Russia.
BSE Sensex and NSE Nifty have been rising to new all-time highs virtually on a daily basis on the back of huge inflows from abroad, plus as a result of expectations of a Narendra Modi-led BJP victory in the Lok Sabha elections. Also, Russia is facing flak over its moves in Crimea and it may be targetted with more sanctions, causing investors to pull out funds from there and push them into emerging markets.
INDIAN STOCKS TO WATCH
* Court tells NTPC to keep up Delhi power supply during payment row
* Reliance Industries (RIL) money-laundering charges under apex court's scanner
* Bharti Airtel and other larger African operators to sell towers in Africa -
* UK's David Llyod eyes 20 pct stake in Talwalkars
* Trouble on the Taro front for Sun Pharma
* Wage increase battle at Bajaj Auto reaches court
* Indian election cash call puts strain on construction, real estate (Read Congress about poll manifesto)
* CMC Ltd wins legal case against Kuwait Stock Exchange
* JSW Steel Ltd sees flat coking coal imports in 2014/15
* RIL wins two hydrocarbon blocks in Myanmar for exploration
KEY EVENTS/FACTORS TO WATCH
* Weekly cabinet press briefing
* Supreme Court to hear market regulator versus Sahara case
* Day 2 of the Confederation of Indian Industry's annual general meeting, with a number of top policymakers and executives from Indian industry in attendance.
With Russia -Crimea situation likely to get worse after Western countries threatening more sanctions, fund withdrawals from Vladimir Putin's country are likely to increase and these are heading towards emerging markets like India
Dipen Shah, Head- Private Client Group Research, Kotak Securities says, Continued optimism on the outcome of the general elections and supportive global markets kept sentiments positive. The important events to watch out for will be the RBI meeting on April 1 and the quarterly results, which will follow the RBI meet. With F&O expiry tomorrow, markets may be volatile.
Raghu Kumar, Co-founder RKSV adds, With tomorrow being expiry day on March contracts, there was heavy volatility on the derivatives segment, as evidenced by the National Stock Exchange clocking in more than 250,000 crore in turnover. The Capital Goods and Auto sectors stood out on Wednesday as each sector surged by more than 1%. The rest of the week should see heavy volatility. With the Ukraine crisis underway causing Russia's stock markets to plummet, FII's continue to look to India as the preferred emerging market to invest in. This trend should continue for the foreseeable future.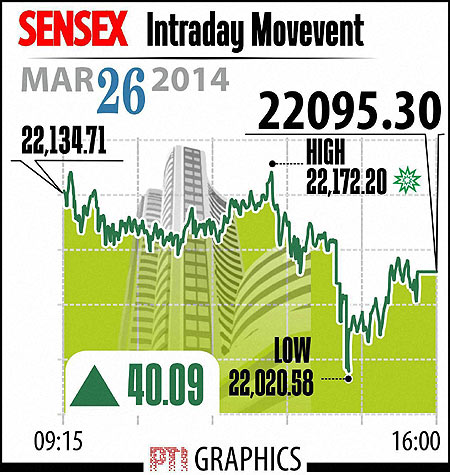 Market close Wednesday: New day, new lifetime high
Benchmark indices closed at new lifetime highs on Wednesday as the rupee strengthened further after touching an eight-month high on Tuesday. The rupee closed at 60.16 as foreign institutional investors (FIIs) continued their buying spree.
According to market observers, expectations of an economic recovery after the elections are drawing foreign capital to Indian markets. Broadly speaking, Indian markets are fairly valued with the anticipation of a favourable outcome after the polls and an economic pick-up. This is driving the investor sentiment, especially for FII investors, which could help the market perform well over the coming six months, said Saurabh Mukherjea, CEO, institutional equities, Ambit Capital. In March alone, markets have made four new closing highs.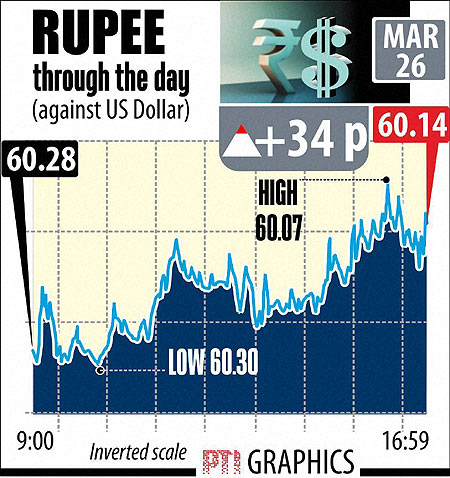 On Wednesday, BSE benchmark Sensex closed 0.18% or 40.09 points higher at 22,095.30 points, while NSEs Nifty closed 0.18% or 11.65 points higher at 6,601.40 points. During the day, the Sensex also touched its intraday lifetime high of 22,172.20, while the Nifty touched its intraday lifetime high of 6,627.45.
On Wednesday, FIIs bought another $166 million worth of equities, as per the BSE provisional data. Domestic institutional investors (DIIs) sold another $59 million worth of equities. FIIs have been net buyers in each of the last 11 sessions, buying a total of $2.5 billion worth of equities. In year to date, FIIs have bought $3.4 billion worth of equities.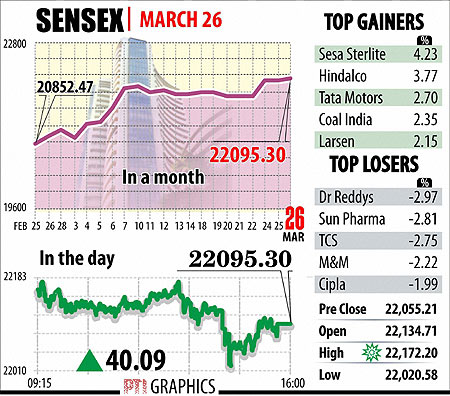 As we get closer to elections, political parties are stitching together alliances to help their electoral prospects. The BJP seems to be ahead in the race, reinforcing their image of being the frontrunner in the polls. It has also belied some apprehensions that Narendra Modi being at the helm would prevent allies from joining the party. Key alliances formed by the BJP include Bihar (LJP, RLSP), Tamil Nadu (five parties) and Haryana (HJC), Bank of America Merrill Lynch said in a report.
Asian markets too gained with US showing signs of recovery. The Conference Board's index for consumer attitudes rose to 82.3, the highest since January 2008. The Hang Seng (0.72%), Kospi (1.19%), Straits Times (1.26%) and Jakarta Composite (0.53%) were the major gainers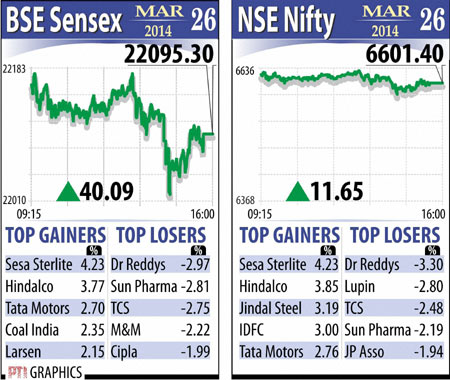 Globally we expect developed markets to register a solid growth improvement, which should bode well for Asian equities, Goldman Sachs said in a recent report. Among major European indices, the FTSE 100 (0.54%), the DAX (1.2%) and the CAC (0.92%) were all trading in the green at about 5 pm IST.
Back home, 16 out of 30 Sensex stocks ending in the green. However, the breadth in broader markets was weak as 1,648 stocks declined and 1,237 advanced. Most sectoral indices ended in the green. BSE Oil & Gas (1.14%), BSE Capital Goods (1.35%) and BSE Metal (2.70%) were the major gainers.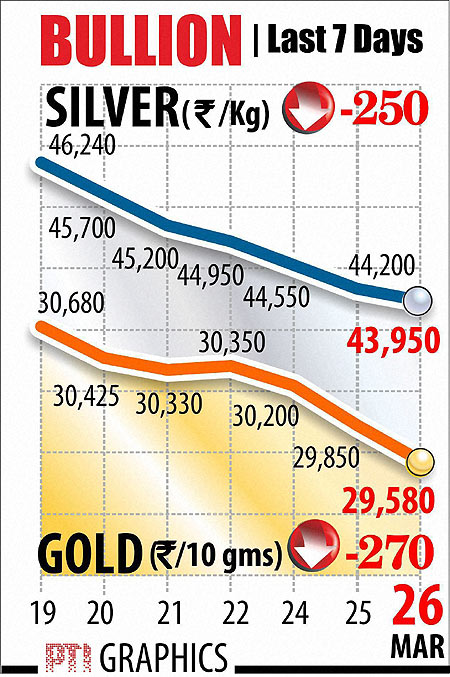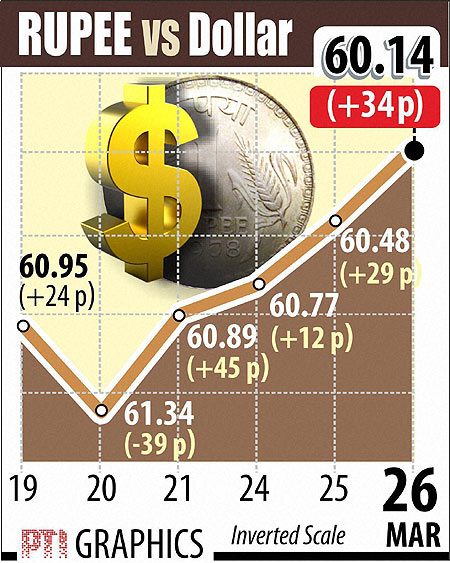 Also read: Sunny Leone's 'Ragini MMS 2' must be banned, actress deported for 'assault on Hindu gods', says HJS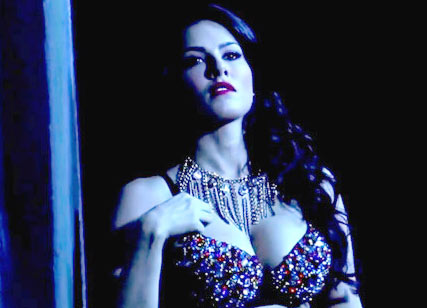 Also read: More misery for kin over Malaysia Airlines MH370 plane, search flounders, weather set to turn for the worse