BSE Sensex ended 0.06%, or 13.66 points, higher at 21,753.75 on Friday.
The benchmark indices ended flat on Friday as the US Feds decision to cut its monthly bond purchases by another $10 billion kept markets subdued. The BSE Sensex ended 0.06%, or 13.66 points, higher at 21,753.75, while the NSEs Nifty ended 0.16%, or 10.10 points, higher at 6,493.20.
On Friday, foreign institutional investors (FIIs) made their biggest purchase in more than a year, buying $692 million worth of shares as per provisional data on the BSE.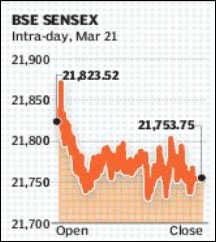 Domestic institutional investors (DIIs) sold $668 million worth of shares. FIIs have been net buyers in 25 of the last 26 sessions at $3.1 billion. Year-to-date, they have bought $2.7 billion worth of shares.
The market gains were led by Tata Steel (3.51%), Hindalco Industries Ltd (3.10%) and Wipro (3.09%). Most sectoral indices ended in the green. BSE Realty (1.86%), BSE Metal (1.93%) and BSE Consumer Durables (0.70%) were the major gainers. While major losers were Mahindra & Mahindra Ltd (5.4%), GAIL (4.9%) and Oil & Natural Gas Corp (4.9%).
However, it was a tepid week for the markets even as the 30-share Sensex posted gains in three of last four sessions. The Sensex ended the week 0.25% lower.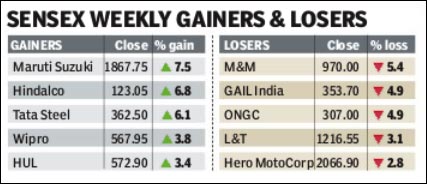 On Thursday, markets slipped 92.77 points, or 0.42%, as members of the Federal Open Market Committee cut the stimulus package to $55 billion.
Among Asian markets, Hang Seng (1.2%), Kospi (0.80%), Straits Times (0.53%), Jakarta Composite (0.03%) and Shanghai Composite (2.72%) were the major gainers. Taiwan Taiex (-0.23%) and Nikkei (-1.65%) were the major losers. For the week, the Shanghai Composite (0.98%) was the biggest gainer among Asian markets in dollar terms.
Among major European indices, FTSE (0.26%), DAX (0.41%) and CAC (0.29%) were trading marginally in the green at 5.50 pm IST.
Back home, 19 of the 30 Sensex stocks ended in the
green on Friday. The broader market breadth was strong with 1,567 advances compared to 1,275 declines.
The NSE cash turnover on Friday stood at R14,654 crore, while the F&O turnover was R1.47 lakh crore.
Experts feel the markets are likely to remain strong on expectations of the BJP coming to power at the Centre.
Despite the confusion, led by changes in US Fed monetary forecasts, QE taper and tensions in Ukraine, a few markets like India and Indonesia that are heading into elections have remained resilient, supported by strong foreign portfolio flows.
Global investors anticipate a business-friendly leadership emerging from elections in these two countries. For India, key fundamental factors like twin deficits and inflationary pressures have improved, said Rajesh Cheruvu, CIO, RBS.
Also read: Malaysia Airlines - 'Extraordinary riddle' of lost Flight MH370 now 2 weeks old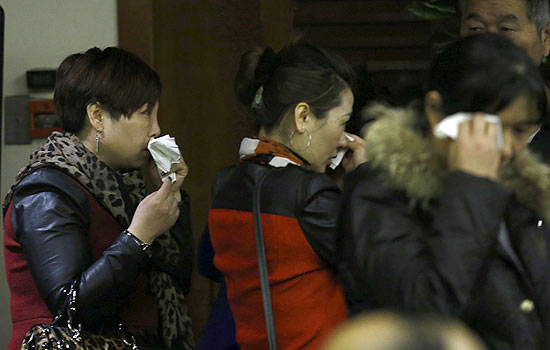 Women cry as they enter a room to attend a briefing by the Malaysian government regarding the missing Malaysia Airlines Flight MH370 at a hotel in Beijing. (Reuters)