Stock markets continued to be weak on the eve of the Union Budget. The expiry of February derivatives contract and selling from foreign funds, coupled with anticipations of a stimulus rollback from the Budget, resulted in bourses closing Thursday on a flat note. However, during intra-day trade, markets trimmed the days loss after the Economic Survey 2009-10 stated that GDP would grow at 9% in 2011-12.
According to the provisional figures of the Bombay Stock Exchange (BSE), foreign institutional investors (FIIs) were net sellers at over Rs 590 crore. The 30-share Sensex of BSE was down by 1.77 points or 0.01% to close at 16,254.20. The broader S&P CNX Nifty of the National Stock Exchange (NSE) gained 1.15 points or 0.02% to close the day at 4,859.75.
Despite intense volatility throughout the trading session, both the exchanges witnessed a turnover of over Rs 1.38 lakh crore on the last day of expiry of derivatives contracts for the February series.
The rollovers in Nifty futures for the March series were around 68%, while for the stock futures, it was over 76%. Siddarth Bhamre, head of derivatives at Angel Broking said, The rollover in the Mini Nifty futures were approximately 52%, which indicates that several retail participants have squared-off their positions ahead of the Union Budget.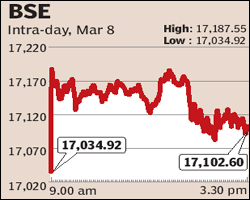 Hathway Cable and Datacom Limited made a lackluster debut on the bourses, as it ended the day at Rs 207.65, down by over 13% against its issue price of Rs 240. Anil Advani, head of research at SBICap Securities said, The pricing of the stocks was very expensive, and despite opening above the issue price, it ended with a loss.
Now, the equity markets are closely watching the Union Budget announcements on Friday, which may provide some directions for the markets in the coming days. DD Sharma, VP-research, retail at Anand Rathi Financial Services says, Unless there is some announcement on some major government reform process like pension and insurance, markets are likely to remain muted.
The NSE's derivatives segment reported a turnover of over Rs 1.22 lakh crore, up by 33% compared to Wednesdays turnover, while the average daily turnover in the last six months stood at approximately Rs 75,800 crore.
The NSEs cash segment reported a turnover of over Rs 12,900 crore, gaining over 10% compare to the previous session, while the average daily turnover in the last six months stood at approximately Rs 16,100 crore.