The mutual fund industrys month-end assets under management (AUM) dipped by over 13%, or R88,000 crore, to R5.87 lakh crore in March 2012, the lowest AUM since June 2009, according to the latest numbers released by the industry body Association of Mutual Funds in India (Amfi). The month-on-month decline in assets was the worst in 12 months.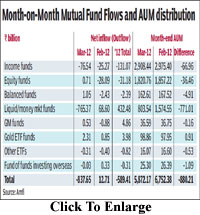 The decline in assets comes at a time when a large number of players are struggling to survive in the current environment and posting losses. In the past year, at least 21 players saw an erosion in their average assets under management (AAUM). Fund houses are struggling to attract investors into equity markets, which have remained volatile for all of the past year.
The decline in MF assets in March was largely because of sizeable outflows of R76,537 crore from liquid/money market funds. This was the highest net outflows witnessed by the category over the past 12 months; in March 2011, the category registered net outflows of about R98,300 crore. According to Crisil Research, quarter-end outflows from liquid funds are a regular feature in the industry as corporates and banks withdraw short-term investments to meet their advance tax and capital adequacy requirements respectively.
Income funds (including ultra short-term debt funds) saw outflows of about R7,700 crore in March, the fifth consecutive month of outflows for the category. The total net outflows in the category over the past five months amounted to R30,200 crore. This is the first time that the category has posted net outflows for five months in a row. According to Crisil, redemptions by institutional investors like corporates and banks from ultra short-term debt funds and short-term funds in this category would be triggered by their quarter-end requirements. Redemptions from other investors could be on account of a shift in preference to long-term debt funds on views of peaking of interest rates in the domestic economy, said Crisil.
Assets of equity funds declined around 2% or R3,600 crore to R1.82 lakh crore due to mark-to-market losses. The equity market represented by the benchmark S&P CNX Nifty fell 1.7% in March after recording gains in the previous two months. The Sensex slid about 2% in March as uncertainty over the tax treatment spooked overseas investors.
Gold exchange traded funds (ETFs) saw inflows of R231 crore in March, the highest since October 2011. Gold prices represented by the Crisil Gold Index declined 1.11% in the month due to low demand on talks of a new tax on the yellow metal introduced in the Budget.
Fixed maturity plans (FMPs) continued to garner majority of the new fund offers (NFOs) in the month. As many as 153 FMPs were launched in the month, garnering R36,300 crore compared with four other NFOs launched, which garnered around R100 crore, according to Crisil. The number of FMPs tends to rise sharply in March as compared to other months as investors look at these products to get indexation benefits, said Crisil.