Commercial banks would soon have to start disbursing educational loans even to management quota students, following a decision by the Indian Banking Association (IBA), which is re-writing the education loan scheme.
Sources said the banks would not be able to deny loans to students from the management quota who fulfill requisite parameters to avail a loan.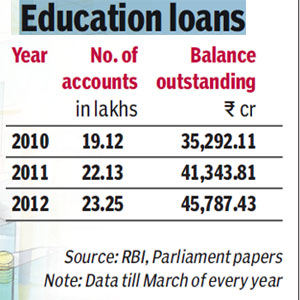 The move assumes significance as many banks were denying loans to students securing admission through the management quota, even though there are no guidelines stating this. So far, there have been close to 5,200 complaints regarding education loans, including denial of loans.
The IBA is reviewing the education loan scheme following instructions from finance minister P Chidambaram. The minister had asked for changes in the loan scheme to make it liberal enough to ensure that no deserving student is denied loan by banks.
The IBA has decided to explicitly asks the banks to disburse loans to even management quota students. This would be made clear in a fresh circular that will be issued for the education loan scheme, said a senior banker.
The move comes days after the finance ministry directed the IBA to revise its circular on education loan to ensure that no eligible student is denied loan and impose penalties on loan officers if they reject applications without any sound reason.
The IBA is changing the guidelines because students who secure admission in the management quota are not considered meritorious enough to be eligible for education loans. Some bankers were not willing to extend loans to them, said a senior human resource development (HRD) ministry official.
Currently, loans above Rs 4 lakh and up to Rs 7.5 lakh are secured by way of a third party guarantee. Under the present model, there is a maximum limit for education loan of Rs 10 lakh for studies within the country and Rs 20 lakh for studies abroad. As per the Reserve Bank of India (RBI) data, the public sector banks have an outstanding Rs 45,787.43 crore of education loans in 23.25-lakh accounts till March 31, 2012.
However, under the proposed Credit Guarantee Fund Education Trust (CGFT) schemewhich aims to provide education loans up to Rs 7.5 lakh without any collateral security and third party guaranteeloans would be covered up to 75% of the amount in case of default.
Besides, the HRD ministry is also mulling a dispensation for special deserving cases wherein banks can be approached for coverage of education loans above Rs 7.5 lakh for providing such loans to highly and exceptionally meritorious and deserving students without collateral security and third party guarantee.