Railway minister Mamata Banerjee on Wednesday proposed a number of measures to fulfil the common and collective responsibility to take care of mother earth. These include introducing at least 10 rakes with green toilets, installing GPS-based optimised driver guidance systems on diesel locomotives to enhance fuel efficiency and developing as many as 10 Rail Eco-parks this year.
Speaking to journalists at the Rail Bhawan, Banerjee said, This is our small endeavour in this direction. She added that in future the ministry would like to invest more in clean technologies.
The railway minister said in her budget speech that installing GPS-based driver guidance systems would reduce fuel consumption by up to 10%. Indian Railways spent Rs14,884.68 crore on fuels including diesel in 2009, and has budgeted for Rs 15,778.12 crore towards "operating expenses-fuel" in the current budget year.
Banerjee also proposed setting up at least 10 eco parks to "conserve, protect and promote Railways' wetlands" this year, including the recently inaugurated Rail Eco-park at Naopara. She also said the ministry would work closely with the Prime Minister's National Action Plan on Climate Change and the Bureau of Energy Efficiency.
Saying that Railways has always been environment-friendly, Banerjee recounted steps that the ministry has already taken in this direction, such as distributing 26 lakh units of compact fluorescent lamps (CFLs).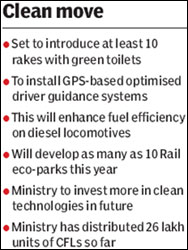 "If we take a ballpark figure, and assuming that the CFLs are 25 watts each, the savings in terms of power could amount to one-fourth of what it takes to light as many 100-watt bulbs," said Gaurav Shorey, area convenor, Green Rating for Integrated Habitat Assessment, The Energy Research Institute.
Shorey warned, however, that if the CFLs are less than 15 watts, the scheme could backfire because the light generated from these bulbs would not be enough for everyday needs.
The budget speech, while promising in terms of the kinds of green initiatives announced, did not provide details on the mechanics of how these would be implemented--such as the location of the other nine eco parks--and the outlay.