Chinese officials tighten security where relatives of passengers on board the missing Malaysia Airlines Flight MH370 are staying. AP
Families of passengers of the crashed Malaysia Airlines Flight MH370 are in a fix over funeral preparations as there are no bodies to be claimed or any information about the time and place of death.
The Prime Minister's Department reported last rites for Muslims would not be carried out until the search mission had reached a conclusion.
Other faiths are also in a similar dilemma as details of death are imperative.
Ethnic Indian Hindu G Subramaniam, whose son Puspanathan, 34, was on the flight, said as there was no body he did not know what to do.
"I still believe my son will return as there is no death certificate issued on his status," he told local daily New Straits Times.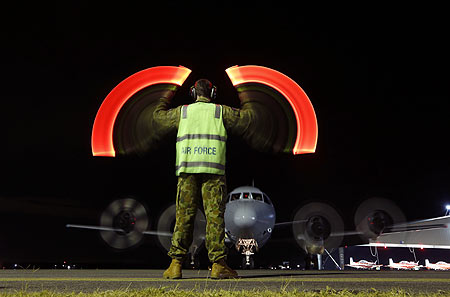 A Royal Australian Air Force AP-3C Orion returns to RAAF base Pearce from a search for Malaysian Airlines flight MH370 over the southern Indian Ocean. (Reuters)
Tan Hoe Chieow, president of the Federation of Taoist Associations Malaysia said funeral rites could only be completed with the location and time of the incident.
"We need to know where it happened and go to the scene of the accident to perform rituals and prayers. It can be done without the physical body, but the priest and family must be in the same area," he said.
Multi-ethnic Malaysia has a majority-Muslim population but also has ethnic Indians who are mostly Hindus and Sikhs, and ethnic Chinese who are Christians, Taoists or Buddhists.
Jagir Singh, who is president of the Malaysian Consultative Council of Buddhism, Christianity, Hinduism, Sikhism and Taoism (MCCBCHST), suggested that the government prepare a memorial or tribute to honour the missing passengers and crew members.
"When it comes to prayers, whether or not to hold a funeral, the family must decide. Perhaps there can be prayers for the soul before last rites are held," he said.
In the case of Christians and Buddhists, funeral rites can still proceed.
Catholic priest Father Lawrence Andrew said that a body was not necessary. He said prayers could be performed for those who have passed away.
The Beijing-bound Malaysia Airlines flight MH370 - carrying 239 people, including 38 Malaysians, five Indians, an Indo-Canadian and 154 Chinese nationals - vanished after taking off from Kuala Lumpur on March 8 and is now believed to have crashed into the remote southern Indian Ocean.
Also read: Live: Search flights called off due to severe weather, hunt for Malaysia Airlines jet debris postponed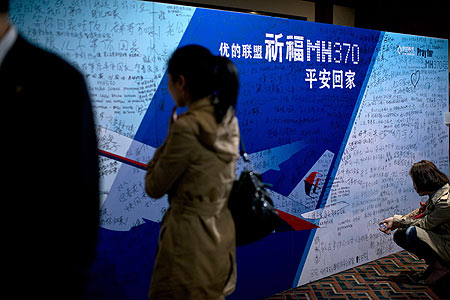 Hopes and prayers written by relatives of those onboard Malaysia Airlines MH370 jet are seen on a board at a hotel in Beijing, China. Some of the wishes read, "Dear husband, you must stay strong, I am waiting for you. My dear, please be back soon." (AP)