A Chinese aircraft spotted three suspicious objects in a new search area for the missing Malaysia Airlines Flight MH370 off Australia's west coast, the official Xinhua news agency said on Saturday.
The items are white, red and orange respectively, Xinhua said.
The southern Indian Ocean is now the main focus of the search, where unidentified pieces of debris have been spotted by New Zealand and Australian Air Force Orions.
The search for the crashed Malaysian jetliner continued today with other fresh objects spotted by planes scouring a new area of the southern Indian Ocean.
A Chinese ship is scouring a new area of the Indian Ocean for "objects" spotted in the hunt for the lost Malaysia Airlines flight MH370, Australian officials said.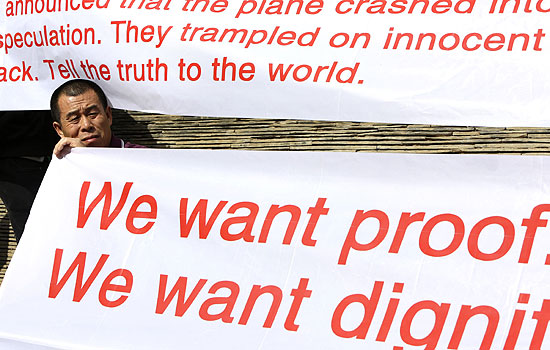 A family member of a passenger onboard the Malaysia Airlines Flight MH370 holds a banner during a protest outside Lido Hotel in Beijing. (Reuters)
The vessel has been at the scene trying to retrieve the items since first light, according to the Australian Maritime Safety Authority (AMSA) says.
Australian officials said on Saturday that objects spotted floating in a new search area for debris from the missing Malaysia Airlines Flight MH 370 need to be recovered and inspected before they can be linked to the plane,
Planes from China and Australia were combing the newly targeted area off the west coast of Australia after several objects were spotted Friday, including two rectangular items that were blue and gray, and ships on the scene will attempt to recover them, the Australian Maritime Safety Authority said.
Also see: Malaysia failed to check its passport database prior to Flight MH 370's disappearance: Interpol
"The objects cannot be verified or discounted as being from MH370 until they are relocated and recovered by ships,'' the authority said in a statement. "It is not known how much flotsam, such as from fishing activities, is ordinarily there. At least one distinctive fishing object has been identified.''
Interpol rejects Malaysian claim on passports
Interpol has rejected comments from a Malaysian minister that it takes too much time and is too difficult to check the international police agency's database to confirm if a passport has been stolen.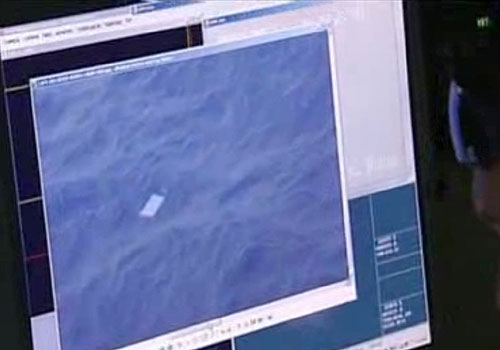 A view of a floating object is seen on a computer screen onboard a Royal New Zealand Air Force plane searching for wreckage from Malaysia Airlines plane. (Reuters).
The issue arose because two passengers used stolen passports to board Malaysia Airlines Flight 370, which went down in the southern Indian Ocean after going off-course for unknown reasons March 8.
An Interpol statement late Friday said ``Malaysia's decision not to consult Interpol's Stolen and Lost Travel Documents database before allowing travelers to enter the country or board planes cannot be defended by falsely blaming technology or Interpol.''
Searching for Malaysia Airlines jetliner: Fresh objects spotted
Fresh objects spotted by planes searching for the missing Malaysia Airlines Flight MH 370 in a new area of the southern Indian Ocean have again raised hopes of unravelling the three-week old mystery.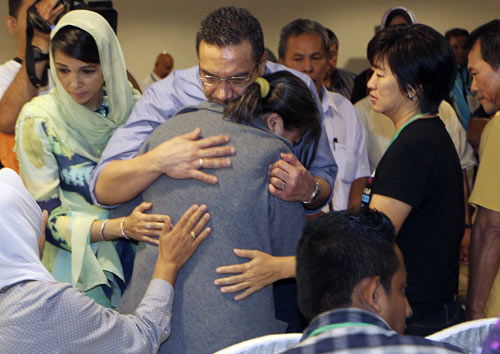 Malaysia's acting Transport Minister Hishammuddin Hussein comforts a relative of passengers on board the missing Malaysia Airlines flight MH370 . Newly analyzed satellite data shifted the search zone on Friday, raising hopes searchers may be closer to getting physical evidence that Flight 370 crashed in the Indian Ocean on March 8 with 239 people aboard. (AP)
Australian authorities coordinating the operation moved the air and sea search 1,100 km (685 miles) north on Friday after new analysis of radar and satellite data concluded Malaysia Airlines Flight MH370 travelled faster and for a shorter distance after vanishing from civilian radar screens on March 8.
Five international aircraft spotted "multiple objects of various colours" in the new search area some 1,850 km (1,150 miles) west of Perth, the Australian Maritime Safety Authority said on Saturday. Some looked like they were from fishing boats and nothing could be confirmed until they were recovered by ships, it added.
One Chinese ship was in the area while another five Chinese vessels and one from Australia were on the way but would not arrive until late in the day.
"We are trying to find small bits of wreckage in a vast ocean, and while we are throwing everything at this, the search goes on," Australian Prime Minister Tony Abbott told reporters in Sydney.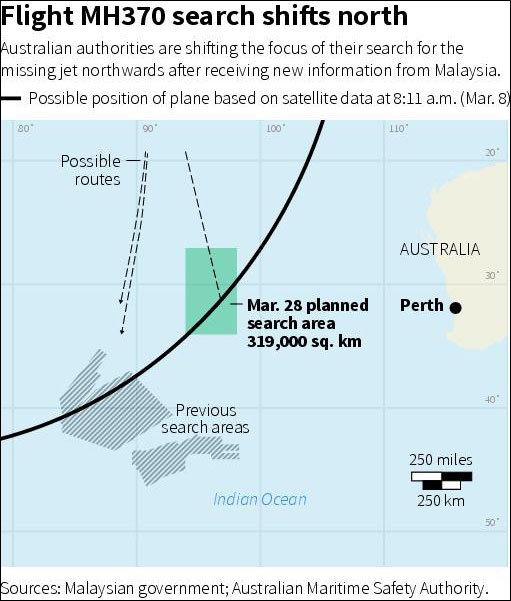 Malaysia says the Boeing 777, which vanished less than an hour into a flight from Kuala Lumpur to Beijing, was likely diverted deliberately but investigators have turned up no apparent motive or other red flags among the 227 passengers or the 12 crew.
U.S. officials close to the investigation said the FBI found nothing illuminating in data it had received from computer equipment used by MH370's pilots, including a home-made flight simulator.
The search has involved more than two dozen countries and 60 aircraft and ships but has been bedevilled by regional rivalries and an apparent reluctance to share potentially crucial information due to security concerns.
Malaysian officials said the new search area was the result of a painstaking analysis of Malaysian military radar data and satellite readings from British company Inmarsat carried out by U.S., Chinese, British and Malaysian investigators.
"Information which had already been examined by the investigation was re-examined in light of new evidence drawn from the Inmarsat data analysis," Malaysia's acting Transport Minister Hishammuddin Hussein told a news conference on Friday.
Engine performance analysis by the plane's manufacturer Boeing helped investigators determine how long the plane could have flown before it ran out of fuel and crashed into the ocean thousands of miles off course, they said.
AIRCRAFT RE-DIRECTED
Flight Lieutenant Jamin Baker was on a New Zealand Airforce Orion which spotted several items and dropped a marker buoy in "an area of interest" on Friday.
"Obviously we don't know if these (objects) are associated with the aircraft yet but it certainly looks like we are seeing a lot more debris and just general flotsam in the water, so we could be on to something here," Baker said.
For more than a week, ships and surveillance planes had been scouring seas 2,500 km (1,550 miles) southwest of Perth, where satellite images had shown possible debris from Flight MH370. That search zone has now been abandoned.
The Australian Transport Safety Bureau (ATSB) said the shift was based on analysis of radar data between the South China Sea and the Strait of Malacca. At that time, the Boeing 777 was making a radical diversion west from its course.
Malaysia's civil aviation chief, Azharuddin Abdul Rahman, said at Friday's news conference he was "not at liberty" to give the exact path of the aircraft.
Officials close to the investigation told Reuters last week that the plane may have passed close to Port Blair, the capital of India's Andaman and Nicobar Islands, 550 miles (885 km) further northwest from where Malaysia has said its military radar last detected it.
At around 319,000 sq km (123,000 sq miles) - roughly the size of Poland - the new search area is larger, but closer to Perth, allowing aircraft to spend longer on site. It is also favourable in terms of the weather as it is out of the deep sea region known as the Roaring 40s for its huge seas and frequent storm-force winds.
Searchers have perhaps a week to find debris, calculate the likely crash area and find the aircraft's voice and data "black boxes" before batteries showing their location run out.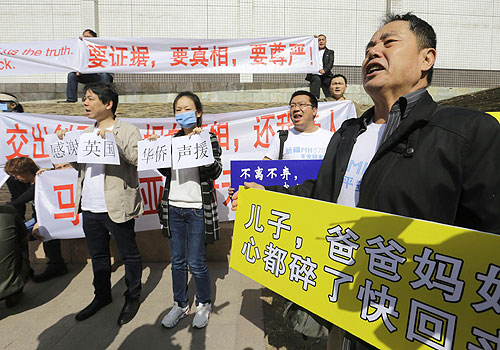 A view of a floating object is seen on a computer screen onboard a Royal New Zealand Air Force plane searching for wreckage from Malaysia Airlines Flight MH370 in the new Indian Ocean search area. (Reuters).
Also see: Sunny Leone: Adult entertainment industry gave me fun and money