A relative holds family portraits of Sugianto Lo, who was onboard the Malaysia Airlines Flight MH370. (AP)
In the wake of the crash of flight Malaysia Airlines MH370, Malaysian authorities have issued new security instructions ordering that the pilot and co-pilot are not allowed to be left alone in the cockpit, even when one of them is taking a toilet break.
Also read: Malaysia Airlines MH370 search throws up fishing equipment, not plane debris
Under the new rules, flight security in the air and on the ground has been tightened at Malaysian airports with strict instructions on how many crew should be in the cockpit.
Malaysia Airlines and Malaysia Airports Holdings Bhd (MAHB) have said the pilot and a co-pilot are now not allowed to be left alone in the cockpit, even when one of them is taking a toilet break.
A cabin crew member has to be in the cockpit until the pilot or co-pilot returns from the restroom.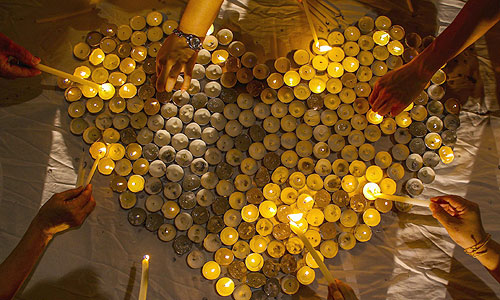 People light up candles during a "Love U MH370" event in Kuala Lumpur (Reuters)
When bringing food to the cockpit, a flight attendant is required to stand guard at the door to make sure no passenger enters the restricted area.
On the ground, MAHB has made it mandatory for anyone taking an international flight to pass through two metal-detectors and undergo a body search before they board.
The travellers must now also remove their shoes, belt, jackets and any electronic devices such as cellphones and laptop computers for separate scanning.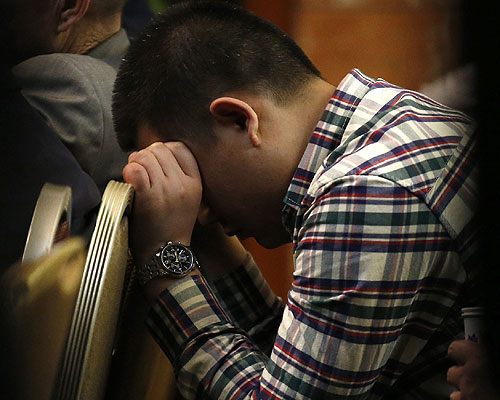 A relative of a passenger aboard Malaysia Airlines Flight MH370 reacts during a briefing by officials of the Malaysian government at Lido Hotel in Beijing. (Reuters)
Bottled drinking water is not allowed to be brought aboard.
The Beijing-bound Malaysia Airlines Boeing 777-200 - carrying 239 people, including five Indians, an Indo-Canadian and 154 Chinese nationals - had vanished on March 8 after taking off from Kuala Lumpur and crashed in the remote southern Indian Ocean.
The search for the Malaysia Airlines jet entered its 23rd day today with 10 aircraft and eight ships tasked to scour the Indian Ocean, after early sightings in the new search zone drew a blank.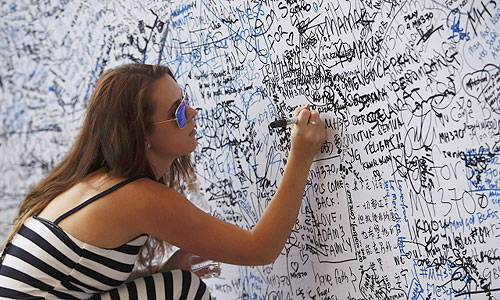 A woman writes on a wall dedicated to the passengers of the missing Malaysia Airlines flight MH370 during the the Malaysian F1 Grand Prix at Sepang outside Kuala Lumpur. (Reuters)