For a change, Uttar Pradesh is going to teach industry-friendly Maharashtra, a lesson in disinvestment.
Looking at the rich experience that Uttar Pradesh government has gathered in its two-year effort to strategically sell off the 25 co-operative sugar mills, the Maharashtra government has decided to send a six-member team under the leadership of the Maharashtra Cane Commissioner Rajendra Chavan on a study tour to get acquainted with the policy of selling out closed or sick sugar mills and to replicate the same in Maharashtra.
The Maharashtra government has been trying to liquidate 31 cooperative sugar factories and has framed a lease policy for the sick units.
However, the response, so far, has been poor and these units have been idle for a long time.
Considering this, the government of Maharashtra has decided to dispose off the sick units by selling its property and Maharashtra cane commissioner, Rajendra Chavan has written a letter to the UP cane commissioner Sudhir Bobade stating that a six-member team under his leadership will visit his office to study how UP is faring in its policy to sell off the closed sugar mills. In may be mentioned that the UP government has initiated process of transferring the assets and liabilities of all the 25 co-operative mills to the private sector.
However, despite an overwhelming response from almost 60 bidders from across the country, the process got entangled in court proceedings when some stakeholders filed public interest litigations (PILs) against some of the mills.
The reason why Maharashtra is keen to study the UP model despite the fact that the sale process is still not complete is that UP has gone through the rigmaroles of disinvestment, faced legal hurdles, has interacted with the private sector and added to its initial offers to make the deal more lucrative. All these experiences are a rich source of ready information for another state, which wants to replicate the process, an official of the state government told FE.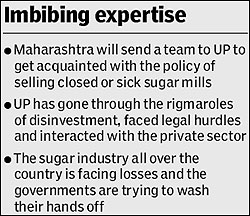 Despite hiccups, UP has achieved a considerable success in overcoming the initial setbacks and glitches. It is more of an experience sharing exercise, which will help Maharashtra to follow on the same lines, he added.
It may be mentioned that the sugar industry all over the country is facing losses and the governments are trying to wash their hands off.
Basically, state intervention in the sugar sector was aimed at protecting farmers. Now when private mills are already giving them a better price and the government is failing to compete with the private sector, governments think it is better to wash its hands off a losing preposition, especially as most mills are old and loss-making and are overstaffed, said the official.
In fact, in Uttar Pradesh, when the government set on the path of fiscal correction, it decided that those sectors which bleed the state exchequer most should be passed on to the private sector.