Media players with USB ports are now a preferred way of getting your digital content to your TV. Several options are available, right from Western Digital, Seagate, Iomega, Apacer, Amkette, Transcend, Asus, Xtreamer and no-name Chinese brands. There really is no doubt that the benchmark in this category has been set by the WD TV Live HD Media Player. As compared to the WD, the Iomega is certainly better looking. It is really slim; about the thickness of the slim-type external USB DVD drive and encased in an attractive brushed aluminum shell. There are two USB ports up front while the optical out, HDMI out, Ethernet, composite video and power ports are at the back. An additional USB port at the back is for the optional Wi-Fi adapter. An infrared remote is supplied with the unit as are the basic composite cables.
Like the WD, it also works with all types of USB flash drives and hard drives, formatted in either FAT32, NTFS or HFS (MAC OS). It also features support for many different formats like AVI, MKV, MPEG, MP4 and VOB. And it also has a built in Ethernet port to connect to a home network or stream videos from the Internet. Setting it up is simple; you will need to buy an HDMI cable, and it is the preferred connection. An optical audio output is provided if you need to connect the device to an amplifier or speakers. Like the WD and some others, the Iomega also automatically powers on when the adapter is plugged into a wall outlet. This is a strange feature, and in a country like ours where power interruptions are the norm, youll find that your media player is in the power on mode quite often (unless you make the effort of switching off the main supply).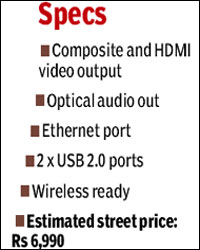 As 10-foot menu structures go, this one is clearly legible and intuitive. The basic menu is a vertical array of options which you can navigate using the D-pad on the remote control. Plug in a USB flash drive or hard drive and a notification of the same pops up. Navigating through files is a bit confusing. The remote has a 4-way D-pad, stop, play/pause and an enter key but no back key. While the up/down work as expected, you have to press the enter key to browse a folder, which is located a fair distance away. To play a file, both the right key and enter key works. You have to press the left key or stop to go back a screen. As you can see, things dont always work the way you expect on the remote.
Video playback quality is the redeeming quality here. Playing both the WD TV Live and the Iomega ScreenPlay, there was virtually no difference in audio or video quality. Click on a file, and it starts playing after a couple of seconds. It upscales all the standard definition video files too.
But there were some other downsides. There is no built in fan or vents, which obviously affects the cooling. After just a couple of back-to-back movies, the device is literally too hot to hold. While there was no effect on performance, one can only wonder about how the longevity of internal components will be affected by the heat build-up.
As regards video format support, it does feature all the usual suspects. But it inexplicably refused to playback a few AVI files; something which the WD TV Live Media Player did with ease. Then theres the fact that it takes ages to start up and become responsive to the remote control. Were talking about almost 30 seconds, compared to 9 seconds for the WD TV Live. At Rs 6,990, it is cheaper than the WD TV Live by Rs 1k and it does offer all the same features. Buy it if you absolutely must have a network-connected HD media player under Rs 7k.
CyberMedia www.LD2.in