Hindalco Industries, an Aditya Birla Group company, on Monday announced a drop of 21.65% in its standalone net profits to Rs 427 crore during the quarter ended December 31, 2009, against Rs 545 crore in the corresponding quarter last year. The net profit has fallen due to lower other income which stood at Rs 50 crore against Rs 150 crore in Q3FY09.
This is on account of a lower treasury corpus post the repayment of the bridge loan taken for acquisition of the Novelis, Hindalco said in a statement.
The companys net sales during the quarter stood at Rs 5,315 crore, up 29.09% on higher metal volumes and better copper realisations. Its net sales in Q3 FY09 were Rs 4,117 crore. The capacity increases through brownfield expansions have resulted in higher production as well as lower costs. However, the EBIDTA is lower by 4% at Rs 748 crore mainly on account of lower by-product credit in the copper business of Rs 100 crore and higher coal cost of Rs 50 crore, the company said. Hindalco shares on Monday slipped 1.46% to close at Rs 159.10 on the Bombay Stock Exchange. The results were announced after market hours.
For the nine months ended 31-December 2009, net sales at Rs 14,132 crore was lower by 2% despite higher metal volumes due to subdued commodity prices. Net profit is also lower by 36% at Rs. 1252 crore.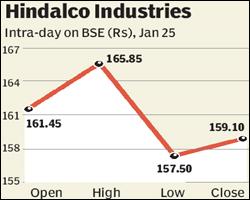 Of the total revenues of Rs 5,315 crore, aluminium business contributed Rs. 1,885 crore with EBIT of Rs 438 crore. The benefits of higher volume, improved geographic/ product mix and higher prices on the London Metal Exchange (LME) were partially offset by impact of stronger rupee and an increase in coal prices. The purchase cost of coal has increased steeply, impacting the margins. In the copper business, revenues increased by 60% from Rs. 2,139 crore in Q3FY09 to Rs 3,432 crore in the current quarter, mainly on account of higher copper prices on the LME.
During the quarter Hindalco raised Rs 2,790 crore through a qualified institutional placement, mainly to part-finance the equity contribution in the greenfield and brownfield aluminium projects.
Around Rs 3,600 crore has already been spent on these projects. Hindalco expects aluminium demand to be strong especially in the electrical and transportation sectors, whereas it expects copper demand to continue to improve.
The high level of stocks poses risk to a sustained rise in prices, especially from the currently high level. Most projections from research organisations suggest refined copper market to be in surplus in 2010, Hindalco said.