Growth in non-traditional markets in range of 40-70% as share of US and EU slips to around 30% of total exports
While the world trade scenario has been nothing to write home about in the recent times, India's strategy to diversify its export markets seems to have helped it stay afloat. With the country focussing on its Look-East policy since 2009 and exploring new destinations, such as Latin America, Africa and Oceania, growth in exports has, more or less, been steady, even as demand from traditional markets of the US and the EU is on a decline.
According to a recent data of the commerce and industry ministry, the growth in non-traditional export markets ? some western European countries, eastern Europe, Africa, Latin America, Asean and East Asia ? has been consistent during April-June 2011, in the range of 40-70%. This trend has, in fact, been evident since 2004-05, but became more accentuated in 2009-10 and thereafter.
The growth in traditional markets, such as the EU and North America, which used to be the sole growth driver for Indian exports, is slipping. North America and EU, which accounted for 40% of India's overall exports in 2004-05, contributed just 30% in 2010-11.
Independent analysts and the government reckon that the trend of export market diversification would only become more pronounced in the coming years. Experts say the strategy has helped India weather the global crisis emanating from Europe and America.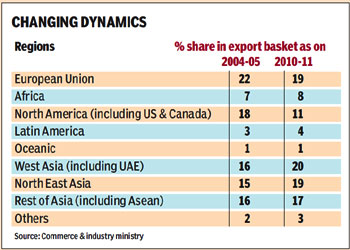 Even the Economic Survey 2011-12 had indicated that though the country's dependence on the EU and the US has reduced, Europe still has a 19.5% share in India's exports. ?During the April-January period of this fiscal, India's exports grew at 23.5% to $42.8 billion,? the survey said. Not just this, the share of Asia and Asean in the total trade increased from 33.3% in 2000-01 to 57.3% in the first half of 2011-12, while that of Europe and America fell from 42.5% to 30.8%.
The recent data compiled by the commerce ministry says that exports to West Africa have increased by 58.2% during April-June 2011 against April-June 2010. Similarly, exports to central Africa and east Africa witnessed a jump of 43.9% and 60.1%, respectively, during the same period. Latin American and Asean exports also grew by 63.9% and 55.9% each during the same period.
KT Chacko, director, Indian Institute of Foreign Trade, and former DGFT, says: ?There has been a continuing effort to enter into new markets ever since the foreign trade policy (FTP) for 2004-09 was unveiled. But the real diversification happened only during the FTP for 2009-14. The diminishing role of EU and US also played a role. The relevance of Southeast Asia, West Asia, Latin America, Africa and CIS nations was also emphasised on and this was supported by schemes like the Focus Product Scheme, Market linked Focus product Scheme, etc. Such efforts helped us reach the target of $300 billion in the last fiscal despite tough times.?
Commerce Secretary Rahul Khullar said India managed to go past the export target by adopting a product and market diversification strategy. Indian exporters should try to diversify into new markets as another economic crisis is looming large in the US and Europe, said Khullar. ?Start looking at new markets. Go to Columbia and similar countries. Do not think that the world stops with the US and Europe. I think you need to diversify the markets. You need not to worry about crisis in Europe.?
Expressing similar sentiments, Apparel Export Promotion Council (AEPC) chairman and ex-president of FIEO, A Sakthivel, said: ?The growth in exports is mainly expected to come from new markets like South America, Japan and Israel as the demand in traditional markets is not picking up.?
But to continue to grow in tough times, a lot more needs to be done. "While India has made major strides in its diversification of export markets, a lot needs to be done to not only diversify the export basket, but also have a perceptible share in the top items of world trade,? the Economic Survey had said.
India, though, is constantly rising in the rankings as far as contribution in world trade is concerned. According to WTO, India was ranked 27th in 2008 and rose to 20th in 2010. India's exports surged 21% to $303.7 billion in 2011-12 despite a slowdown in demand in major markets like the US and Europe.