With the Budget showing a clear path to Limited Liability Partnership (LLP) formation for smaller companies now, there has been three-times increase in the LLP registration all over the country. Earlier, the pace at which LLP registration was growing was only 75 LLPs per month but now it is growing at 246 LLPs in a month which is more than three times than what it was before.
According to the Registrar of LLPs, the number of LLPs which were registered till February 28 was 825 and the number rose to 948 till March 15 which is more than three times of the LLP registration before Budget.
According to an ministry of corporate affairs ministry official, Even though LLP became operational from April 1, 2009 but the number did not go up that much as there was not much clarity on the tax front. Companies were not clear whether they need to pay capital gain tax for conversion or not. This Budget has cleared that companies with a turnover to Rs 60 lakh will not have to pay any capital gain tax for conversion to LLP.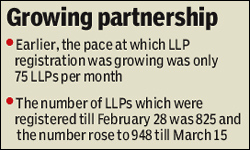 LLP, which is a hybrid of partnership firms and companies, is a separate legal entity and the partners have an advantage of being liable to the extent of their shareholding in the entity.
However, the Registrar of LLP is of the view that a large chunk of companies, especially the small and medium enterprises are not aware of the LLP concept. At present, if a small and medium company wants to know about LLP, then they ask a chartered accountant. LLP concept needs a greater advocacy which will increase the number of LLPs manifolds, he said.
India Strategy Group CEO Rohit Bansal said the advocacy for LLP should also cover the banking institutions for them to appreciate the credit needs of MSMEs better.
According to industry experts, an LLP does not attract dividend distribution tax and minimum alternative tax. Also, it lends itself to easy conversion into a private limited company, and vice-versa.
MCA joint secretary Avinash K Srivastava told FE that LLP benefits and greater advocacy about it will encourage more MSMEs to come forward. Even if 10% of the 26 million MSMEs get themselves registered as LLPs, it would be a sizeable number, said Srivastava.