The Life Insurance Corporation, the countrys largest financial sector entity, could soon get a makeover. At stake is clearing up governance roles within the organisation, ensuring more transparency in securities market investments and a possible listing.
The finance ministry recently appointed a committee headed by former RBI deputy governor Vepa Kamesam with a wide-ranging mandate to suggest reforms in LIC. Both Kamesam and LIC chairman TS Vijayan refused to comment on the development. LIC has often enjoyed a very close relationship with the government especially in its securities market operations.
The state-owned company commands a two-third share of the domestic life insurance market and an investment portfolio of almost Rs 9 lakh crore. Its total asset base is over Rs 12 lakh crore.
The finance ministry move comes at a time when the US government is pressing India to raise the foreign investment limit in the country's insurance sector from 26% to 49%. The ministry wants LIC to get its act together before such competition rolls in. Also, with insurance regulator planning to issue listing norms for insurance companies soon, the government wants to ensure LIC is found compatible to access the stock markets.
The other members of the panel are Tarun Bajaj, joint secretary in the ministry of finance, D Mehrotra, managing director, LIC and Srinivas Rao, financial advisor, Irda. The committee will also peruse two reports by Booz Allen Hamilton and another by Deloitte which had drawn up the road map for the corporatisation of the entity, withdrawal of government guarantee on LIC policies and a possible public offering in the future.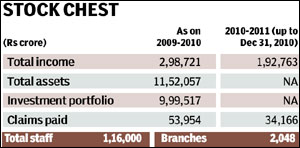 While the government has reason to be concerned at the recent a bribery case at LIC Housing Finance, sources said those were not the reasons behind setting up the Kamesam committee. LIC is using a report prepared by an internal high-powered committee to clean up the mess from the loans-for-bribes scam.
Ministry sources point out that the committee's terms of reference are, however, broad enough to look into all measures including the supervision of LIC's investments department.
Sources say that much before the Central Bureau of Investigation started its probe, the ministry's economic intelligence wing had looked into dozens of investment deals made by the corporation. This might have triggered the ministry's action to streamline the functioning of LIC's investment department.
LIC holds strategic investments in many bluechip companies. In fact, LIC, along with other insurers, have emerged as a counter-balancing force in the market against the FIIs.