Apple, Samsung, BlackBerry and Sony might be slugging it out for a piece of the high-end smartphone market, but it is the mid-range segment where there is fierce competition with numerous handset vendors targeting thousands of potential new customers, either migrating from low-end handsets to higher ones, or those on the lookout for a new device this festive season. In such a scenario, it goes without saying that those vendors will be successful who focus on providing a great device experience to users, rather than simply marketing their offerings on the basis of certain set of specifications. I reckon that homegrown device makers are more abreast with the consumer buying patterns and preferences and thus have a distinct advantage in the mid-range segment. Recently, we received two stylish mobile phones from Lava and Micromax, decently priced and packed with interesting features, especially all the messaging and social-centric features that people love. Let us check them out.
Lava Iris X5
The Iris X5 is the successor of Lava Internationals hugely popular Iris X1. The smartphone is a judicious mix of superlative camera performance and a graceful design. Company officials say that the phone is especially designed to meet the needs of the selfie generation. Running on Android 4.4 KitKat, the Lava Iris X5 with its good features and design is a real treat at a price of R8,799.
On the specs front, the Iris X5 has a 5.0 megapixel front shooter with LED Flash for low-light imaging that enables clicking perfect selfies with extraordinary detailing at any given time of the day. I clicked objects in my drawing room as well as outside surroundings and the results were amazing. Images are crisp and sharp with fine detail. The phone comes laden with a wide-viewing angle shot which allows users to capture pictures upto 84 degree with the front camera. In addition to this, the phone has an 8.0 megapixel Auto-Focus rear camera with pretty good imaging quality. I would recommend this phone for all the shutterbugs.
Moving further, the X5 offers a great viewing experience with its 5 inch high definition (1280 x 720) IPS Full Lamination LCM rich display that produces sharp images. The In-plane Switching (IPS) etched in the phone enhances colour reproduction resulting in a bright display. There is also an intelligent Flip cover powered by hall sensor that puts the phone automatically in sleep mode ensuring reduced battery consumption.
Probing the innards, the Iris X5 is powered by 1.2 GHz Quad Core and 1 GB RAM that promises seamless application performance and multitasking, supported by a 2100mAh battery providing ample back up for multimedia payback, talk-time and stand-by. With an OGS 5-Point touch, the phone offers a smooth touch experience. Additionally with the width of 71.5 mm and thickness of 7.7 mm, the smartphone has become easy to handle.
The device comes with 8 GB of internal memory that is expandable upto 32 GB via micro-SD card. On connectivity front, the dual SIM Iris X5 is facilitated with 3G connectivity apart from Wi-Fi, Bluetooth v3.0 and micro-USB v2.0. It offers OTG support to enable file transfer through USB drive on the move. The device has a dual mic for active noise cancellation that promises a crystal clear calling experience.
In my usage, the X5 came across as a pretty nifty device which is easy to use with its responsive software and its touch is fairly good too. The phone provides many conveniences and apps to help keep users connected to the people and information of their interest.
Micromax Canvas Win W121
Recently, Microsoft waived the Windows Mobile OS license fee for devices less than 9 inches screen size. This is expected to help bring more Windows Phone 8.1 devices in the market. Micromax, Indias second largest smartphone maker, is the first Indian smartphone player to launch a Windows-based phone. It has introduced its Canvas Win series comprising two Windows-based phonesCanvas Win W121 and Canvas Win W092.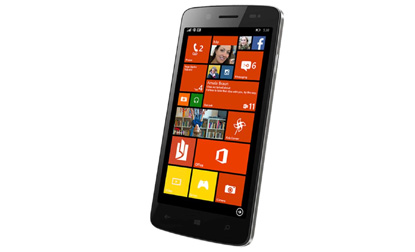 Our review unit, the Canvas Win W121, sports a 5-inch HD IPS display and is powered by a Snapdragon 200 processor. The new Windows Phone 8.1 focuses on personalising and customising the phone with features that can be controlled by the user offering a multitude of features for work and fun. One can enjoy a personalised user interface with LiveTiles and find faster ways to connect via the People Hub, which bring together friend updates and social networks into one place. Users can search swiftly and smartly using the pre-loaded Internet Explorer 11.
The Windows Phone App store boasts of over 300,000 apps and also powers a very active developer ecosystem to provide consumers with a delightful app experience. With Microsoft Office and OneDrive, users can fulfil all their business needs on-the-go while entertainment seekers can access an all-in-one music service through Xbox Music. Aptly designed for the discerning consumer, the phone combines the best of software and hardware.
The dual-SIM Canvas Win W121 is power-packed with a 2000 mAh battery. Users can capture all their favourite moments with the 8 megapixel rear camera with flash and connect with their friends and family over Skype using the 2 megapixel front camera. Users dont need to worry about running out of space on the smartphone with the 32 GB expandable memory.
In terms of performance, the Canvas Win W121 is a smooth and fast phone with good build quality. In my usage, the phone came across as a fast device with no observable screen lagging. Movies and videos can be played in good quality with its sharp high definition display.
If you haven't got much money to buy the latest high-end phone in the market, then the Canvas Win W121 is the one to get.
LAVA IRIS X5
Display: 12.7 cm (5 inch) IPS OGS Full Lamination display
Processor: 1.2 GHz Quad Core processor
Operating system: Android KitKat v4.4
Storage & memory: 8 GB ROM, 1 GB RAM, expandable upto 32 GB
Camera: 8 MP rear & 5 MP front
Connectivity: Wi-Fi 802.11 b/g/n, Bluetooth v3.0, USB v2.0, OTG support
Battery: 2100 mAh Li-ion battery
Estimated street price: Rs 8,799
MICROMAX CANVAS WIN W121
Display: 5-inch HD IPS display
Processor: Qualcomm Snapdragon 200 processor with 1.2 GHz Quad Core CPU
Operating system: Windows Phone 8.1
Battery: 2000 mAh battery
Camera: 8MP (rear); 2 MP front camera
Storage & memory: 1 GB RAM; GB ROM
Sensors: Proximity Sensor, Gravity Sensor, Light Sensor and Accelerometer
Estimated street price: Rs 9,500