Tapping the people advantage well can help the Indian manufacturing sector increase its share of the country?s
GDP from 15% currently to 25% by 2022, in line with the target set by the National Manufacturing Policy
Arvind Pandey & Vishal Sharma
Economic stability, investor-friendly policies and regulations, robust infrastructure, conducive taxation, and easy access to finance are important factors behind a country?s ability to realise its growth potential. A country, with the right enablers and policies in place, can build on the above factors over time. However, there are a few inherent factors that are inimitable and can provide the winning edge. These are the availability of an adequate skilled workforce and labour cost competitiveness.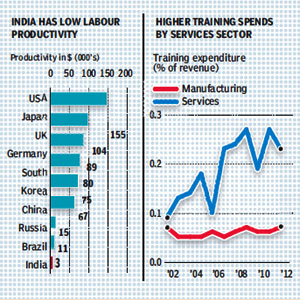 The two factors play out substantially in India?s favour. With a sustained labour cost advantage and a working population estimated to top 850 million before the end of the decade, India is destined to become the second most competitive manufacturing destination globally, leaving behind countries like the US and Germany. Tapping the people advantage well can help the Indian manufacturing sector increase its share of the country?s GDP from 15% currently to 25% by 2022, in line with the target set by the National Manufacturing Policy. This will entail a compound annual growth rate of 14%, raising the sector?s total output to approximately $650 billion by 2022, and making India the world?s fifth-largest manufacturing nation, up from ninth currently.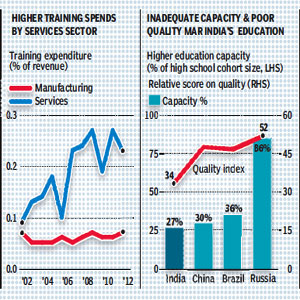 However, Indian manufacturing has not been able to realise its potential. This is mainly a consequence of low people productivity?a key factor that directly impacts the sector?s performance. Countries such as the US, Germany, Japan, China and South Korea have managed to improve their share of global manufacturing activity through higher levels of people productivity. On the other hand, India, despite its growing economy, has lagged behind. In addition, low people productivity has impacted the share of manufacturing in India?s GDP as well.
A skilled and trained workforce is the backbone of any economy. Due to years of under-investment in employee skilling and training, India today has one of the least skilled manpower among the top manufacturing nations. Firstly, only 17% of those entering the workforce are skilled. Secondly, the quality of skilling remains a big challenge?amongst the skilled workforce, a mere 5% of workers are classified as highly skilled, and a staggering 64% are associated with a very low level of skilling. Finally, despite a smaller base, improvement in the proportion of skilled workforce in India has been much slower than peer nations. Today, the demand for skilled workers in India far outweighs the available supply.
In fact, the demand-supply gap is higher than the supply itself. This shortage is expected to rise further, and hit almost 100 million by 2025. As a result, despite having a seemingly limitless supply of low-cost labour, over 65% of Indian firms face difficulty in filling vacancies with rightly skilled workers. This is especially discomforting when compared with corresponding figures of only 15% and 20% for their counterparts in the UK and France, respectively. In the absence of any concrete measures to stem the rot, this widening skill gap is bound to become a major limiting factor in the manufacturing sector?s target of 25% share of GDP by 2022. Hence, it is very important for the government and the industry to collaborate on putting in place a robust plan for skilling and training.
It is important to note that there is a clear relation between investments in training and improvement in people productivity, and consequently, the contribution to overall GDP. The services sector in India has spent increasingly higher amounts on training in recent years, and has seen a steady improvement in people productivity?thereby improving its share of GDP. On the other hand, investments by the manufacturing sector in employee training have remained relatively flat, resulting in a rather marginal improvement in people productivity.
Practices adopted by other leading manufacturing countries suggest that in order to manage demand-supply gaps at myriad skill set levels, the ecosystem should be able to produce more people with vocational and modular skills than with higher education (graduation and beyond). A detailed study on human resource requirement in India?s textile industry (the country?s biggest manufacturing sector in terms of total workforce demand) shows that for a staggering 95% of job positions, workers need vocational and modular skills. The study also reveals that skills acquired during graduation are relevant for only a mere 5% of vacancies. However, the current Indian set-up churns out more graduates and post-graduates than vocationally trained students, thereby creating a demand-supply mismatch at different levels. While companies are struggling to fill vacancies at vocational positions, millions of graduates are unable to find jobs.
Vocational programmes are out of sync with the industry?s requirements, something that can mainly be attributed to non-involvement by corporates in curriculum design. Also, real-work exposure for vocational students is extremely low, in the absence of internships and live projects. These factors negatively impact the employability of fresh vocationally trained individuals, which in turn, affects the availability of rightly skilled labour for organisations. Despite the government?s recent efforts toward bringing equivalence in vocational and mainstream higher education, there is currently very limited upward academic mobility in the vocational education system. Also, the industry is largely indifferent toward students with vocational certification when it comes to hiring fresh talent. These two factors discourage students from pursuing vocational education.
It is no wonder that China, with its limitless supply of low-cost labour is the manufacturing hub of the world. At the same time, it has taken effective steps to deal with the demand-side challenges associated with training and skilling of its industrial workforce. Over the years, the Chinese government has invested extensively in vocational education. As a result, nearly 50% of the secondary level students in China have access to vocational education today?way higher than a dismal figure of 5% for India. The infrastructure in China for vocational education can absorb 20 million students, while the total number of available seats in equivalent Indian programmes stands at a mere 2 million (approximately).
Also, the quality of training in Chinese vocational institutions is much better (compared with India), mainly due to extensive industry participation, favourable government policies and a flexible curriculum. The key stakeholders in the ecosystem there work hand?in?hand. While Indian vocational programmes offer students little industrial exposure, Chinese courses mandate students to undergo one-year training to be able to get the diploma?ensuring that students are better equipped to be absorbed immediately into the job market.
Sustained and collaborative efforts by the government and industry on workforce training and skilling have generated rich dividends for the Chinese economy. The productivity of manufacturing labour in China has grown by over 300% in the last 15 years. In contrast, the productivity of the Indian industrial manpower has risen by a mere 32% over the same period.
India, with its large working population and low labour costs (or substantial labour-cost competitiveness), is at a distinct advantage, and can grab a lion?s share. However, poor people productivity holds India back. If the right levers are put in place, India can efficiently utilise its ?demographic dividend? and create a long-lasting leadership role for itself in the global manufacturing sector. In order to achieve this goal, corporations and regulators would need to come together and create a feasible environment for growth.
Extracted from the BCG report ?People Productivity: Key to Indian Manufacturing Competitiveness?