Private carrier Kingfisher Airlines is believed to be in talks with private equity players Abu Dhabi-based Aabar Investments, Washington DC-based Carlyle Group and New York-based Texas Pacific Group to raise $400 million.
Kingfisher Airlines chairman Vijay Mallya had said in New Delhi last month that the company is in talks with PE players for raising money, and would use the funds to retire the company's debts. The airline has a debt of $1.2 billion (Rs 5,640 crore) on its books as on September 2009.
The interest expense for the airline for the September-ended quarter was Rs 262.42 crore. Airlines in India, which have accumulated huge debt in their books as they borrowed to fuel their expansion plans, will find raising further debt difficult, and will look at raising money through the equity route.
In 2005, erstwhile Air Deccan, SpiceJet and Paramount Airways have raised funds worth $150 million (around Rs 700 crore) from private equity firms. Last year, SpiceJet raised Rs 345 crore from Wilbur Ross.
When asked about the company's talks with PE firms, an airline spokesperson said, "We do not comment on such news." Manoj Dengla, a vice president focused on Asia buyout opportunities at Carlyle said, "As a company policy, we do not comment on such things." Email queries to Aabar Investments and TPG did not elicit a response.
Kingfisher Airlines reported losses of Rs 418 crore for the September-ended quarter due to an economic downturn. The carrier desperately needs equity to meet operational costs and pay down some of its debt. Kingfisher has been looking to raise equity for a long time but a combination of bad market and high price expectations prevented the deal from happening. Also, current government rules do not permit foreign foreign airlines to invest in Indian airlines.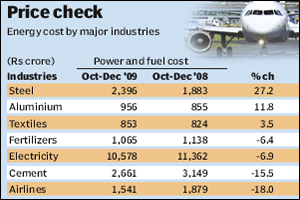 Kingfisher Airlines shares were up 3.48% to close at Rs 60.90 on the BSE on Tuesday. Meanwhile, the Indian airline industry suffered losses of over Rs 4,000 crore in FY08-09 and is projected to post a combined loss of Rs 10,000 crore in the current financial year. Founded in 2005, Aabar Investments is a global investment company owned through a series of subsidiary companies by the Abu Dhabi Government. The firm has a 32% stake in Virgin Galactic a space tourism venture of Sir Richard Branson's Virgin Group.
Carlyle Group has more than $84.5 billion of equity capital under management. The firm operates four fund families, focusing on leveraged buyouts, growth capital, real estate and leveraged finance investments.
TPG's past associations with the aviation industry include investments in Continental Airlines.
It is focused on leveraged buyouts, growth capital and leveraged recapitalisation investments in distressed companies and turnaround situations.