Iconic two-wheeler maker Kinetic Motor Company, which had brands like Kinetic Honda and Luna under its umbrella, could stage a comeback in 2013. The company is looking to re-enter the two-wheeler market with its own brands of products once the non-compete pact, it signed while entering into a joint venture (JV) with Mahindra & Mahindra (M&M), expires.
The Sullaja Firodia Motwaniled two-wheeler company, which had for years empowered young bike riders with gearless drive and auto-start, had stopped production of its popular two-wheeler brands following the JV with cars-to-commercial vehicle major Mahindra & Mahindra (M&M) in July 2008.
A top Kinetic official told FE on condition of anonymity that the non-compete agreement is only for a limited period of five years after which the company could re-enter the two-wheeler market with its Kinetic brand. The non-compete agreement is slated to expire in July 2013. M&M has 80% stake in the JVMahindra Kinetic Scooters & Motorcycles Ltd. According to the agreement, Kinetic Motor was given the option of selling the 20% stake in the next seven years.
In an interaction with FE on Thursday, Sulajja Firodia Motwani, managing director of Kinetic Motors, said in the next five years the company is going to focus on re-establishing its brand by targeting the customers directly.
However when asked about its plans to re-enter the two-wheeler market, Motwani said, As of now we cannot enter the two-wheeler segment because of our JV with M&M.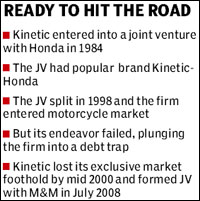 Kapil Arora, an analyst with Ernst & Young, said the two-wheeler segment is expected to grow in leaps and bounds in the coming years, especially with the potential of electric two-wheelers.
Largely the electric two-wheeler segment has not penetrated the market yet ...it is going to grow even more in the future, he said.
Another auto analyst said on conditions of anonymity that Kinetic has been looking to expand its brand and a re-entry into the two-wheeler market. He said though it would be the right choice for the company, lack of funds could be a constraint. Kinetic has a strong brand recall but whether the company can mobilise enough funds will be the key (to the success of the its plan to re-enter the two-wheeler category, he said.
Kinetic Motors is part of the $500 million Firodia Group of Companies. Apart from Kinetic Motors, the group also has an auto component business which goes by the name of Kinetic Engineering Ltd.