The government plans to make the most of the upcoming Budget Session. It is likely to push through several key financial sector reform Bills that have been held back for several months. Braving the Opposition onslaught that prevented any business to take place in the recently concluded Winter Session, the government wants to push through the Bills that are crucial to propel growth in pension, insurance and banking sectors.
On the agenda of the government is to seek parliamentary approval for passage of the Insurance Amendment Bill that seeks to increase FDI limit in the sector from current 26% to 49%, Pension Fund Regulatory and Development Authority (PFRDA) Bill to give statutory backing to the sector regulator, Securitisation and Reconstruction Of Financial Assets and Enforcement of Security Interest (Sarfaesi) Bill that will help banks seize assets from defaulting borrowers and help them reduce non-performing assets and the Factoring Bill which will give legal backing to such services.
According to a finance ministry official, the government has already requested Parliamentary Standing Committee on Finance to fast-track its examination of the Insurance Amendment Bill and submit its recommendations before the Budget Session so that the Bill with changes could be tabled in Parliament. If the report comes in time, we will introduce it in the Budget Session itself," said the official. The committee has already concluded discussions on the Bill and has to give its recommendations.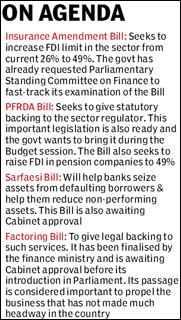 PFRDA Bill, the other important legislation, is also ready and the government wants to bring it in the current session itself. Though the official did not indicate whether the government will force its passage in this session itself, he said its passage has important to propel growth of the pension sector. Apart from giving statutory backing to the office of PFRDA, the Bill seeks to allow FDI in pension companies to 49%.
Factoring Bill, which has already been finalised by the finance ministry, is awaiting Cabinet approval before its introduction in Parliament. Its passage is considered important to propel the business that has not made much headway in India. The Sarfaesi Bill is also also awaiting Cabinet approval.