Heres a little detail that was overlooked amidst the brouhaha over the index of industrial productions strong 10.4% growth in August. Playing a key role in the IIPs rebound was gas pumped from the D6 block of the Krishna-Godavari basin, which started in April.
Indias chief statistician, Pronab Sen, told FE that output from the controversial gas field explains the high growth of the mining sector in the IIP. Thats why we are seeing such a high growth in mining, which rose 12.9% in August. Most of that is because of gas output from the K-G basin, said Sen.
The K-G D6 field has been mired in allegations that operator Reliance Industries Ltd gold-plated its development costs. And Anil Dhirubhai Ambani Groups Reliance Natural Resources Ltd is locked in a legal battle with RIL over the price at which gas would be supplied from the field. The matter will come up before the Supreme Court on Tuesday.
According to Sen, the IIPs September performance could prove shy of Augusts, when a base effect played a major role in the double-digit growth. However, he maintains that the growth in factory output in the past three months was impressive.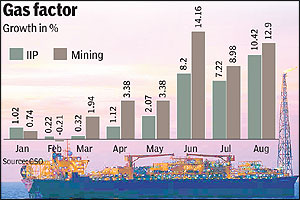 Performance in a single month is not a reliable indicator. Even if you take away the base effect, you had three consecutive months of impressive industrial growth. That in itself is cause for considerable confidence, Sen explained.
The only major concern is the impact of the drought. Normally, the effect comes a little later. People initially try to limit their consumption. So, there may be some weakness because of that. But if NREGS activities pick up, then there would be an offsetting factor. It is not clear how this will pan out, he stressed.
Nevertheless, Sen feels that industrial output could expand 6.5-7% in 2009-10. Production from the Dhirubhai 1 and 3 wells of the K-G D6 block started in April. According to estimates, peak production from the block could be as high as 80 million metric standard cubic meters per day. Recoverable reserves from the field have been estimated at 10.03 trillion cubic ft.
There are other benefits of the output from gas fields as well. According to analysis by Goldman Sachs vice-president Tushar Poddar, gas from K-G D6 will substitute 7% of the oil consumption in 2009-10, while between 2010-11 and 2013-14, this could be 10-11%. With reduced dependence on crude importsIndia imports 70% of its requirementsthe current account deficit could improve by 0.2% of GDP in the current fiscal, and by 0.6% in the 2010-11 to 2013-14 period.