JSW Steel on Tuesday said the company will invest Rs 75,000 crore in brownfield and greenfield expansion, taking its total capacity to the 32 million tonne per annum (mtpa) by 2020.
Speaking on the sidelines of the company's 16th annual general meeting on Tuesday, JSW Steel vice-chairman & managing director Sajjan Jindal said, In view of the stated objective of achieving 32 mtpa of steel by 2020, the company continues to look for even more raw material assets, both within India and globally. Coal and iron mining leases in various regions within the country are in different stages of regulatory approvals. The mining activities will begin on receipt of these approvals, he said. The company has acquired coking coal mines in the USA as a step towards backward integration. These mines have resources of 123 million tonne.
Commenting on the much awaited deal of JFE picking up stake in JSW Steel, Jindal said that Japan's JFE, the world's sixth largest steel manufacturer, will be picking up about 5-15% stake in JSW Steel and expects the deal to close within six months. JFE Steel and JSW Steel entered into a strategic agreement last November primarily focused on auto-use steel, which included supply high-end products to auto makers in India. He further said that JSW Energy's 1,200 mw coal-based plant will go on stream in 15 days. Taking serious note of complaints of Alphonso mango growers, the environment ministry had warned power producer JSW Energy that it will have to shut down its proposed plant in Ratnagiri in Maharashtra if its operations have adverse impact on fruit production. According to Jindal, the company has approved environmental clearance for the plant.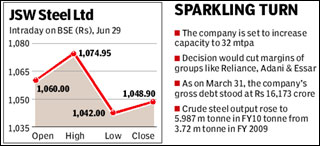 Describing the rise in cheap steel imports as 'disturbing', Jindal said that this, along with higher iron ore exports, will put the local steel industry at a disadvantage. "We will try to impress upon the government to take steps and implement policies which will arrest this trend," he said.
JSW Steel is currently expanding its crude steel capacity to 10 million tonnes per annum at Vijayanagar works and the project is on schedule to achieve completion by March 2011. Steel prices have fallen in the past few months mainly on account of destocking, Jindal said adding, The real demand for steel is still intact.