The company reported Q4FY14 net sales of Rs 2,018.49 crore, below analysts estimates of Rs 2,073.6 crore. Reuters
The Sajjan Jindal-led JSW Energy's fourth quarter sales missed analyst estimates on lower generation of electricity. The company achieved a deemed plant load factor (PLF) a measure of average capacity utilisation of 62% in the quarter mainly due to shutdown of its Barmer plant for part of the period due to non-availability of lignite and schedule for certain units.
The recent decisions of the regulatory bodies indicate a trend for grant of compensatory tariffs of projects rendered unviable. However, the sector continues to reel under the low off-take, falling tariff and fuel uncertainty. Accordingly, the merchant prices are expected to be under pressure primarily due to low demand and no signs of a pick-up in the economic growth outlook in the near term, JSW Energy said in a statement.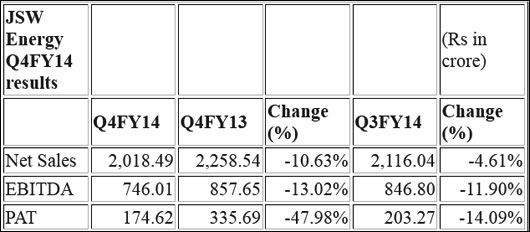 The company reported Q4FY14 net sales of Rs 2,018.49 crore, below analysts estimates of Rs 2,073.6 crore, according to Bloomberg estimates. Sales fell about 11% year-on-year (y-o-y). Net profit for the quarter ended Dec 31 was Rs 174.62 crore, a fall of 48% y-o-y. The company said a higher charge of interest and depreciation on capitalisation of units ate into its bottomline.
JSW Energy's debt equity ratio as on Dec 31 stands at 1.54 times.
In terms of generation, the company's Vijaynagar unit had a PLF of 101% while the Ratnagiri project had an average PLF of 60% and Barmer had a deemed PLF of 34%. The merchant sales during the quarter were 2,292 million units and the sales under long term PPA were 1,378 million units.
The fuel cost for the quarter was Rs 979 crores, down 2% y-o-y and 8.2% quarter-on-quarter. The fuel costs were impacted by a correction in the international coal prices but were adversely impacted due to the steep depreciation of the currency, JSW Energy said.
JSW Energy said the Ministry of Environment and Forests has accorded environmental clearance for the expansion from 3 MTPA to 3.75 MTPA for Kapurdi mines in Barmer in Rajasthan. Also, the Ministry of Coal has a 7 MTPA mining plan, for which a public hearing is expected in early-June. The possession of land for Jalipa mines is in progress. The project cost of Jalipa and Kapurdi mines is estimated at approximately Rs 1,800 crores. Till Match 31, the company incurred expenses of Rs 1,527 crore.