SIX years ago, Indias top capital market honchos were caught by surprise as waiters appeared with red wine and cheese at The Leela, Goa, one warm evening, during an event organised by Jignesh Shah. For many of the delegates, this was their first exposure to the sultan of the Indian capital markets.
Over three days, Indias top finance specialists, with invitees from Dubai, Singapore, Malaysia, South Africa and Botswana, listened as Shahs team talked about how to light a fire under the Indian capital markets. Shah wanted the event Future of Financial Markets to be known as the Davos of Indian financial markets. Commodities, currency and equities were all discussed by delegates, who wore specially crafted half-sleeve shirts in large floral prints that put the holiday crowd in the shade.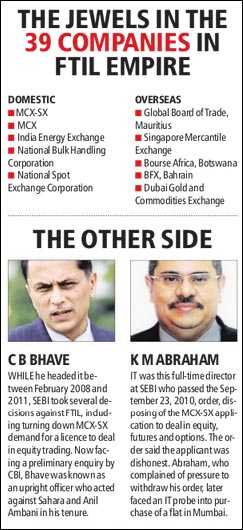 Over the years that followed, the Kandivli, Mumbai, boy, the first businessman in his middle-class family his father Prakash Shah briefly dealt in iron and steel trade with a distinctive staccato style of talking would get used to such spotlight. He would also fulfil his dream of becoming a billionaire before 40.
However, now, Shahs run to gain control of the stock markets through his flagship company, Financial Technologies (India) Limited (FTIL), and its 38 subsidiaries has sputtered to a halt. The CBI has ordered a preliminary enquiry into Shahs role at his National Spot Exchange Limited (NSEL), while the Securities and Exchange Board of India (SEBI) has ordered that FTIL is ineligible to hold shares in any exchange. the Forward Markets Commission had issued a similar order. Read together, Shahs exclusion is complete. Speaking to The SundayExpress, Shah was downbeat. I dont want to talk now. I will be misunderstood, but someday I will speak.
In 1999, two IT professionals in their early 30s set out to dominate the markets by floating FTIL. A BE in electronics from Mumbai University, Shah had chucked his job as a technology expert at the Bombay Stock Exchange, where he had joined Project BOLT to automate the exchange. Friend Vaidyalingam Hariharan quit as associate vice-president from National Stock Exchange to join the venture. Another friend, again from BSE, Dewang Neralla, too joined in. The team dreamed of capturing a chunk of the expanding field of computer-based trading.
Incidentally, it was C B Bhave, who now faces a CBI probe into Shahs dealings, who had opened up this field. A couple of years earlier, as chief of National Securities Depository Limited (NSDL), he had made demat trading compulsory for traders. All physical shares had to be extinguished and trades could happen only on the screen.
With the economy recovering, FTIL was one of the first movers. Shah secured a Rs 8 lakh software contract from the NSE, with a loan underwritten by a Rs 5 lakh mortgage raised on his home. His wife didnt object. Shah is fond of recounting how they have known each other since childhood, and he decided to get married to her when he was just 8.
FTILs software ODIN would soon become the preferred platform for brokers. FTIL annual report for 2012 claimed 82 per cent of the brokers used it. In financial year 2013, FTILs turnover was Rs 3,592 crore, even after the crash.
Within two years of launching FTIL, Shah, who often said he modelled himself after Dhirubhai Ambani, realised the power of bringing brokers together on his platform. He jumped at the chance when, in 2002, the Ministry of Consumer Affairs and Agriculture sought expressions of interest from companies willing to set up a commodity futures market on the model of the NSE. Fourteen applications came, of which the ministry shortlisted four. While it is the Forward Markets Commission that is the sector regulator, it does not have the powers to grant a licence. Along with FTIL-sponsored MCX, NCDEX floated by the NSE, Ahmedabad-based NMCE and NBOT were given licences. The futures market was meant to create a mechanism to spot perishable products to help the government contain inflation.
FTIL wooed brokers to MCX as one of the conditions of the licence was that the firm should have a pan-India online network. It was on the other requirement that the ownership of the exchanges be widely disbursed to protect the interests of investors that Shah had his first brush with the law. Whenever he was required to divest his stake, he would turn around by issuing stock warrants to his promoter group in exchange. It was a sweetener giving them the option to buy the company stock in future at current prices.
Meanwhile, the UPA came to power, with Sharad Pawar as Minister for Consumer Affairs and Agriculture, and P Chidambaram as Finance Minister. In line with a report by consultancy firm KPMG in 2004, commissioned by the government, Chidambaram proposed that the commodities market be merged with SEBI. But Pawars ministry baulked at it.
In 2006, spot trading was allowed in commodities in a new exchange set up by Shah the NSEL. The spot business was a surprising expansion of the commodities market. The exchange was set up via a government order without involving the Forward Markets Commission. As B C Khatua, former chairman of the Commission, says, spot trading in commodities needs far more ring fencing than futures. Khatua said he had asked the ministry to give them oversight rights. If we had been given the rights, the scandal at NSEL would not have expanded to such a level.
In 2008, NSEL was allowed to enter forward trading on spot contracts, with the rider that all trade should be squared in 11 days. Waking up to the profits Shah was reaping, others scampered for permission to set up their spot platforms. NCDEX and NMCE were given the right to set up a spot platform. NSEL grabbed almost all the spot exchange turnover. Since there was no regulator to inspect the markets till 2012, high net worth people could invest huge money with promised returns, and traders with no fear of having to settle their trades with corresponding physical delivery ramped up volumes. When the crisis broke in 2013, the total unsettled trade volume at the exchange was over Rs 5,600 crore.
To run his expanded empire, Shah put together an excellent team and also paid them well. A Finance Ministry official said that Shah rang his doorbell with a huge pay offer, the day after he quit government service. Generous offers brought in Lamon Rutten and Joseph Massey. Rutten left his job as chief of Finance, Risk Management, Information at the Commodities Branch of UNCTAD, Geneva. Massey was picked up from Interconnected Exchange of India where he was the MD. Key advisers to MCX included former SEBI chief G N Bajpai, former finance secretary Ashok Jha, former revenue secretary the late Nitish Sengupta, while the FTIL board included names like P G Kakodkar, former SBI chief.
A surprise was Anjani Sinha, made the managing director of NSEL. Under Sinha in the 1990s and in 2002, investors at the Magadh and Ahmedabad stock exchanges lost substantial money because of bad delivery of shares. In both cases, SEBI had to supersede the board but the investors never got their money back.
Volumes at MCX accounted for about 80 per cent of the total commodities market in India by 2008. At its peak, MCX daily trading volumes crossed Rs 50,000 crore, largely through trade in metals, including gold and silver. Shah had also begun expanding his commodities markets abroad. Bourse Africa and Singapore Mercantile Exchange were launched in 2010 while the Bahrain Financial Exchange was launched in 2011.
D K Agarwal, MD, SMC Capital, one of Indias largest broking houses, says Shah deserves kudos for developing the commodities market. The phenomenal growth of this market should be assessed with respect to his contribution.
In 2007, Shah applied for a licence from SEBI to expand into equities. This was where he again ran into Bhave, now the SEBI chairman. One of the rules for the market was that investors in the exchange be diversified. Shah resisted it. As he saw it, the exchange had the potential to become a rival to the NSE. Reducing his stake to 5 per cent meant giving up the value addition before he had earned his profit. SEBI agreed to give him a years time to comply with the diversification clause. Till then, he could only deal in currency trade.
In November 2008, Pranab Mukherjee became the Finance Minister. Shah applied to SEBI and lobbied with the ministry for a fresh look at his case. In 2010, member K Abraham rejected the plan offered by Shah to reduce his stake in the exchange using the warrant route. Soon, Bhaves term ended and he was not given an extension. Abraham wrote to next SEBI chairman U K Sinha in 2012 that he was pressured to change his opinion in this case. Abraham, who is now additional chief secretary, Kerala, refused to talk to The SundayExpress for this story.
Shah dragged SEBI to the Supreme Court and won the case. The same year, the Forward Markets Commission took charge of commodity spot markets in the Consumer Affairs Ministry. The minister in charge, K V Thomas, gave the go-ahead to square up all trades at NSEL that were not spot.
As warehouse receipts used as collateral for the trades turned out to be junk and banks refused to refinance the securities, a huge payments deficit opened up at NSEL. Till now less than Rs 1,000 crore of the Rs 5,600 crore bill of outstanding trade has been cleared, as per the exchange website.
Shah resisted the idea that his empire was beginning to crumble, holding that cash-rich MCX could not be made responsible for bailing out stranded investors from NSEL. He said that FTIL was not kept in the loop by its executives a logic bought by investigating agencies till recently. This changed on March 13, when the CBI questioned him but filed a surprising preliminary enquiry into why SEBI under Bhave had agreed in principle to give a licence to MCX-SX. A livid Bhave said CBI must apologise if the enquiry failed. In an interview with The Indian Express, Finance Minister P Chidambaram said the CBI was not in full grip of the facts. On March 19, SEBIs order in the matter of Financial Technologies (India) Ltd declared that FTIL was responsible for what transpired at NSEL.
Public interest director at the exchange, D K Dogra, chief of Care Ratings, says, From a technology officer to climbing up as owner of so many stock exchanges, Shah had obviously tried to bite big. He made too many enemies with the regulators in the process.
The man who was chosen by the World Economic Forum Geneva as Young Global Leader, who mixed his lines with those from Bollywood and lived in a three-storey house in Juhu that has now been seized by the police, is a pale shadow of his former self.His office building, Exchange Square in Mumbai, with its paintings of the worlds stock exchanges is a painful reminder of Shahs assertion that his passion was markets and his pleasure creating companies.
Early this year, speaking after having been forced to walk out of MCX, Shah said, I will see the institution grow from a distance for the rest of my life.
Founders must realise they are building an institution, he was fond of saying. Its that institution which now stands threatened.
Listen: Shakira's official song for 2014 World Cup in Brazil