Indian carriers are witnessing growth not only in passenger traffic, but also in air cargo. While passenger traffic rose by 30% over the last six months, carriers are expecting air cargo to grow 15% on international and 6% on domestic routes in FY 2011. Jet Airways carried 96,386 tonne cargo on global routes in FY09, an 87% increase against the corresponding period last year. However, there was a dip in cargo carried on domestic routes. In FY09, Jet carried 85,046 tonne of cargo on domestic routes, down 26%, due to the recession.
Jay B Shelat, vice president, cargo at Jet told FE, "Currently, our cargo division contributes 7-8% of the total revenue. Cargo constitutes 12% of Jet's revenue from international operations and 4% from domestic operations. In two years, we want to boost revenues from air cargo to around 15% and 6% on international and domestic operations, respectively. He added that a significant growth is seen in the cargo industry due to an increase in economic activities. In FY09, the largest private airline registered revenues of Rs 11,476.98 crore.
Shelat, however, said that constrained infrastructure at various airports is a serious challenge to put up with but is hopeful that the government will take adequate steps to help the cargo sector flourish. Recently, cargo operators raised freight rates between 15% and 30% for both general cargo and perishables due to an increase in demand.
Government efforts to develop air cargo market include the increase of foreign direct investment in cargo and non-scheduled airlines to 74%. Second, plans are also on for developing Nagpur as a cargo hub through large-scale investments into MIHAN (Multimodal International Hub Airport) project.
Similarly, as a part of its revival plan, national carrier Air India (AI) is in the process of increasing its cargo capacity multi-fold. Cargo operations currently contribute Rs 800 crore to AI's topline of Rs 17,000 crore and will be hived off as a subsidiary to generate revenues four times more than it does currently.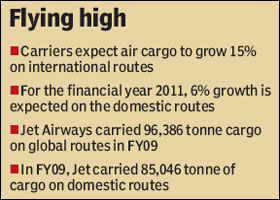 AI has converted six of its older aircraft B737-200 into freighters and wants to enhance its share in the international cargo market to over 25-30% initially, while more than a dozen airlines from other countries carry the balance of the country's cargo. Though there is a huge potential for the Indian air cargo market, lack of infrastructure continues to be a roadblock for the industry, which is slated to touch Rs 13,300 crore by 2011-12, a growth of 20%, by industry estimates.
Low cost carrier SpiceJet has recently added Goa to its existing network of domestic cargo operations. The carrier has expanded its cargo operations in major cities like Delhi, Hyderabad, Mumbai, Chennai, Bangalore and Kolkata in less than a year and now operate from 13 stations.
Also, air freight companies carried 1.4 million metric tons of domestic and international cargo in India during April-December 2009, a 10% rise from the year earlier period, according to data from the Airports Authority of India.