Jet Airways made headlines in March 2008 when it won a 1.47-acre plot for Rs 826 crore at Bandra-Kurla Complex (BKC), Mumbais premium commercial complex, to build its headquarters. Now, two years after the mega-deal, Mumbai Metropolitan Regional Development Authority (MMRDA) has decided to confiscate the property from India s largest private airline for failure to pay the money after depositing the initial earnest money of Rs 10 crore.
A top property consultant in Mumbai felt that MMRDA, which is the apex body responsible for infrastructure development in Greater Mumbai may now re-auction the property, since the same plot will now fetch 10-15% more.
Jet had sought and received several extensions to make the payment, but the authority is in no mood to accommodate further, since it has to finance expensive projects like Mumbai Metro Rail Project and the Mumbai Urban Infrastructure Project, apart from several skywalks.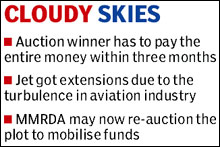 Said Ashish Shelar, board member, MMRDA: The 17-member board has taken a decision to confiscate the land from Jet Airways for failure to make payments for the plot. We will soon send out a letter to Jet Airways, informing them of our decision. However, a Jet Airways spokesperson told FE: There is no such development that Jet is aware of.
As per rules, the winning bidder of a BKC plot has to pay up half the amount within a month of receiving the allotment letter and the rest over the next two months. If the bidder fails, MMRDA can retain the earnest money deposit and call off the deal, said Shelar. In Jets case, the deadline was extended to September 2009, since the aviation industry was facing tough times on account of the global downturn.
Another MMRDA board member Rajhans Singh added: The decision comes in the wake of Jets inability to pay Rs 400 crore by September 2009, which is 50% of the outstanding amount, along with 14% interest on the principal amount. The remaining amount was to be paid in a years time.
The BKC is the first of a series of growth centres created by MMRDA to check the concentration of offices and commercial activities in South Mumbai . The MMRDA was appointed as the Special Planning Authority to plan and develop BKC as early as 1977. The chairman of the MMRDA board is Maharashtra chief minister Ashok Chavan.
BKC houses the offices of several large companies including IL&FS, Asian Heart Institute, Dow Chemicals, ICICI Bank, Bharat Diamond Bourse and the Dhirubhai Ambani International School.