The first quarter of the calendar year 2010 saw a significant quarterly increase in outbound deal value, with a total M&A transaction value of $14 billion, according to mergermarket, an independent Mergers and Acquisitions (M&A) intelligence service firm. This makes January-March this year as the second largest quarter in Indias outbound deal value.
Indias M&A market accounts for over 4% by value of deals in Asia-Pacific and 11% by deal count. The total volume of inbound and domestic M&A deals in India has increased from 40 to 53 compared to Q1 2009, but deal value dropped from $5.1 billion last quarter to $4.7 billion, representing a 7% decrease. Inbound activity has also had a strong start to the year, up 81% by value and 69% by volume compare to Q1 2009.
Bharti Airtels $10.7 billion acquisition of Zain announced in March pushed the countrys total outbound deal value from last quarters $0.1 billion to this quarters $14 billion, making this quarter the second largest quarter by outbound value on mergermarket records. Inbound activity was also strong in Q1 2010, with a significant 81% and 69% year-on-year increase by value and deal count respectively.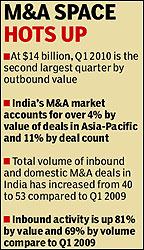 Through acquiring Zain in March and purchasing a 70% stake in Warid Telecom in January, Bharti Airtel has substantially strengthened its presence across the globe. Domestically, GTL Infrastructure purchased Aircels tower business and Quippo Wireless-TT Info-Services acquired Tata Teleservices tower portfolio in this quarter.
All these deals provide clear evidence that the Indian telecom industry is consolidating, and at the same time aggressively working on global expansion. With the ongoing auction for national 3G spectrum, we expect to see more M&A deals in Indias telecom sector in the coming months, said Vinu Lal, Head of India Coverage at mergermarket.