With Maruti, Bharti, HUL and Idea all beating the Street, the mood in corporate India, if not actually, upbeat, is certainly better than it was a few months ago. There is, however, some despondency that goes with the realisation that the core of the economy remains in deep trouble; from Larsen &Toubro to NTPC and Ultratech to Sesa Sterlite, large chunks of industry continue to find the going tough.
Indeed, the headline numbers for Q1FY15 mask much of the underlying pain for a sample of 749 companies, revenues rose 14.5% , driving up operating margins by about 80 basis points and should be read together with the by and large cautious management commentary. ICICI Banks CEO Chanda Kochhars observation that credit demand for new projects is still a few quarters away, pretty much sums up the situation; with corporate loans at the countrys second-largest lender having increased by just 8% y-o-y in the three months to June, its evident demand is dull and companies are not rushing to expand capacities.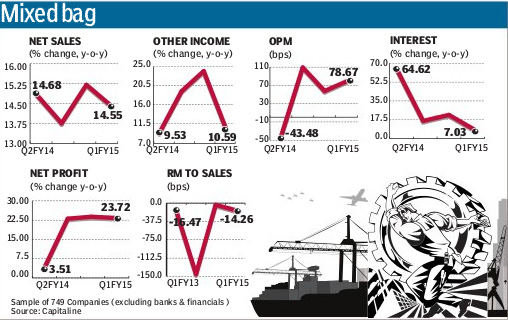 Net profits may have risen a good 24% y-o-y but a good part of this comes from IT and telecom firms. The results of engineering heavyweight Larsen & Toubro reflect the weakness in the home market; local orders were anaemic but were offset by a chunk of overseas orders comprising 44% of the total; even with this, however, the increase in total orders at 11% y-o-y, was below the guidance of 15%.Orders at Thermax fell 69%.
Sesa Sterlite reported a sequential fall in ebitda of 16% y-o-y, way below estimates, due to a fall in the production of zinc. NTPCs operating profits were lower 23% y-o-y while net profits fell 13% y-o-y. Construction activity remains sluggish as was seen in Reliance Infrastructures results where consolidated revenues fell 24% y-o-y with EPC revenues dropping 65% y-o-y.
n Continued on Page 2
The results from the consumer space are mixed; HULs was a great show in a challenging environment with the top line growing at nearly three times the market rate. But consumer spends appear to be moderating; managements say the growth in both volume and value slowed across segments with value growth slipping to 4% y-o-y in 1QFY15. ITCs FMCG business, for instance, decelerated resulting in a marginal EBIT loss. The fact that sachets and smaller packs grew better than larger packs reflected how strained household budgets are. The slowdown in rural markets was palpable, managements said. Although the net profit was boosted by higher other income, the good news is that Marutis revenues were driven by higher than expected increase in the average selling price(ASP). Urban volumes grew 12.7% and the management has revised its volume guidance for FY15 to low double digits from high single digits earlier.
Heavyweight Reliance Industries Limited (RIL) turning in a weak operational performance with the reported ebitda up just 6.4% y-o-y and down 9.6% sequentially while higher than expected raw-material costs and employee expenses dented motorcycle maker Bajaj Autos margins by 90 basis points to just 17.6%. Realisations at Ultratech were unexciting despite prices rising in southern India and the cement manufacturer was weighed down by fuel and power costs all of which put pressure on profitability; the firms ebitda dropped 4% y-o-y. Smaller firms like Rallis too disappointed the Street with both the agrichemicals and seeds segments putting up a mediocre show. Hindustan Zincs ebidta fell 10% y-o-y driven by a fall in production of metal mined which caused net profits to fall 3% y-o-y. Much of the sluggishness in the economy is reflected in the muted growth in non-food credit grew 13% y-o-y in June; loan growth at Bank of Baroda(BoB) moderated to 19% y-o-y from 21% y-o-y in the previous quarter.