Keralas state Budget for 2010-11 unveiled by state finance minister TM Thomas Isaac on Friday portrayed a greener picture by proposing a Rs 1,000-crore green fund and continuing with most of the schemes under the Rs 10,000-crore stimulus package unveiled last year during the slowdown.
The green portion of the Budget will draw its resources from the proceeds of the sale of sand from the silt of the dams in the state, said Isaac. From last year, the state had set out on an unprecedented resource initiative to mine at least Rs 800-crore worth sand from the silt accumulated at its main dams like Malampuzha.
It also proposed a Rs 620-crore gender-budgeting initiative and an NREGA model job guarantee scheme for city dwellers, but remains silent on fresh private investments or SEZ initiatives.
The Budget, showing a cumulative deficit of Rs 577.09 crore and additional resource mobilisation (ARM) to the tune of Rs 874 crore, puts its thrust on welfare theme. There are give-aways like rice at Rs 2 per kg to those working in the unorganised sector (Rs 500 crore outlay), income support scheme for those in the ailing traditional industries like coir, cashew and handloom and Rs 300-per-month welfare pensions for those looking after the disabled. The government has set aside Rs 500 crore for the food subsidy plan that will benefit about 3.5 million families.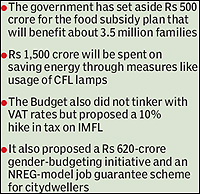 The Green fund will be used for regeneration of forests and related activities. There would be special assistance for protection of mangroves and sea turtles and Rs 100 crore would be allocated for planting trees. Sate finance minister said Rs 1,500 crore would be spent on saving energy through measures like usage of CFL lamps. Municipalities will get funds to set up plastic recycling units.
The Budget also did not tinker with VAT rates but proposed a 10% hike in tax on Indian made foreign liquor (IMFL). However, the tax on wine and beer is pegged down by 10%. To buoy the crisis-struck tourism industry, the state Budget has slashed the luxury tax on hotels to 7.5 % and 12.5% in different categories from 10% and 15%. State finance minister has not tinkered with VAT rates, but has clamped tax on direct to home services and jewellery shop owners.