One of the biggest grievances that Apple iPod and iPhone users have is that the devices do not come with FM Radio. In India especially, where radio is one of the most used forms of entertainment, lack of the FM factor sometimes makes the buyer choose from a competitor device. However, with Griffin iFM dongle, things are about to change.
Apple did introduce the FM radio in its iPod Nano 5th gen, but its still missing from the iPhone and the iPod touch. Griffin iFM is a little dongle that plugs into the iPod Touch/ iPhones docking port. It has the docking pins on one end and the radio reception unit on the other end with a 3.5 mm headphone jack. Once you plug it in, it automatically tells you that that a software is required to be installed from the app store for the device. On clicking OK it launches the app store and takes you to download the iFM radio controller app from Griffin which is available free of cost and is a little 666 KB download.
Once the app is installed, launch it and then select your Radio region. For some strange reason all the Asian countries are listed under Europe. After you select your radio region, the app automatically shows you the frequency range that implies in your country. Simply tune to the frequency you want to listen using the click-wheel interface or use the auto-scan and save your radio stations in favourites. The iFM works as the radio receiver and picked up 10 out of 11 radio station on auto tune.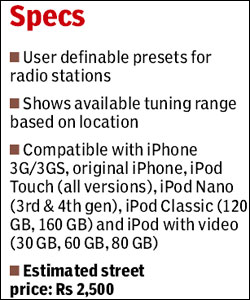 The radio reception is fantastic and we were surprised to get clear reception even when we kept the iPod Touch and the iFM inside the trouser pockets. The sound quality depends on the headphones used; however using the default white headphones that come with the iPod the sound quality was top notch.
What I didnt like was that the apps volume does not work together with the devices volume. So if you want to increase or decrease volume, you have to do it from within the app and not the volume keys. Also, as the device is connected to the docking port and you need to connect headphones to the iFM dongle to listen to FM, you cannot get the FM reception on the loudspeaker of the device.
The iFM dongle can be purchased from eBay for Rs 2,500 approx. It sells in the US for $40 which is a relatively high price for an FM receiver. However, the performance and the simple free iFM application makes it one of the best options for the iPhone and iPod Touch.
CyberMedia www.LD2.in