MSM could be biggest loser as it hoped to earn Rs 1,000-cr ad revenue
While Multi Screen Media, the host broadcaster for Indian Premier League (IPL), could turn out to be the biggest loser if IPL7 is scrapped since it was hoping to earn close to Rs 1,000 crore in advertising revenues, the Board of Control for Cricket in India (BCCI) stands to lose Rs 150 crore as do sponsors. The fate of the tournament hangs in balance with the Supreme Court proposing on Thursday that Chennai Super Kings (CSK) and Rajasthan Royals(RR) be suspended; without Mahendra Singh Dhoni, the tournament will lose much of its appeal.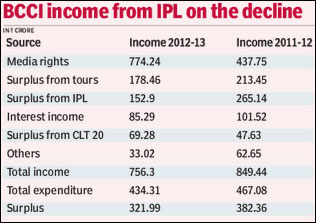 A stunned tournament sponsor PepsiCo India said: The matter is sub-judice. We would not like to offer any comment. Pepsi got the title sponsorship of IPL last year with a reported bid of Rs 397 crore (to be paid over five years), almost double what DLF paid in 2008.
Even if the tournament is shortened, the losses could be significant. Rohit Gupta, president (network sales, licensing and telephony) for MSM, declined to comment on the impact of a shorter IPL 7 on on-air sponsorships.
We will have to wait till we hear from BCCI on this, Gupta told FE. IPL-6 fetched MSM revenues of over Rs 900 crore and it was expecting a 15-20% increase this year.
The broadcaster is said to be negotiating advertising rates of Rs 4.75- Rs 5 lakh for 10-seconds spots and was looking at asking the co-presenting sponsors to shell out Rs 50-55 crore.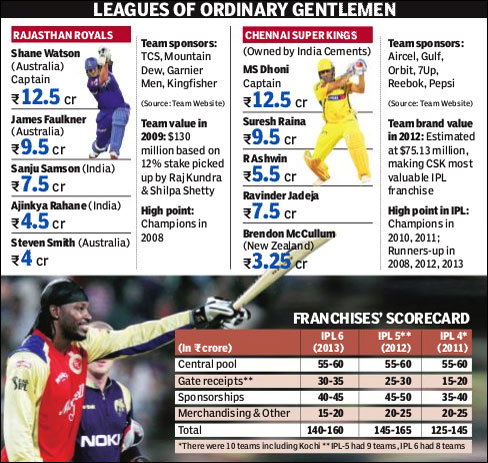 In 2011, Aircel signed the most expensive sponsorship deal in the IPL, paying more than Rs 85 crore to renew its deal. Chennai Super Kings is also believed to have the maximum number of sponsors, with roughly 20 brands associated with the team. A shorter IPL-7 would mean less value for advertisers, who together spend Rs 1,300-1,500 crore on a mix of on-air and team sponsorships during the nearly two-month long tournament.
Shorter tournaments will also mean re-planning the entire marketing and sponsorship spends. As of today, advertisers have asked us to put all sponsorship-related buying on hold, said a senior media planner from a Gurgaon-based media agency. Shailendra Singh, joint MD of Percept, said the current crisis will give the brands an opportunity to re-negotiate their contracts. The brands will see an opportunity in this crisis. Despite the current sad state of affairs, viewership wont be affected. Advertisers have so far paid huge amounts in an inflated market. Now, they will use this opportunity to re-negotiate their contracts and bring the cost down, Singh said.
The IPL has a projected income of $1.6 billion over 10 years through sponsorships. The franchises get 54% of it and 40% goes to the IPL itself, while 6% is used as prize money. Last year, the BCCI struck a sponsorship deal with Pepsi for around $60 million, which is valid for three seasons. The BCCI also sold the TV rights for $1.4 billion for 10 years to Sony Entertainment Television, and 72% of the proceeds are supposed to go the franchises.
If two teams out of eight are ousted, then all the permutations and combinations have to be reworked. We plan a seasons budget knowing that well be getting X amount from the central pool. Now, if two teams go, then we have to rework the math and everything goes for a toss, a team official said. Even the local sponsorship deals will suffer. For example, Dhoni is the biggest draw at a match from sponsors to gate receipts. If his team is scrapped, then all of us will face losses.
A senior official associated with one of the former IPL champions said they will seek postponement of the seventh edition if CSK and Royals are banned. However, he insisted that the removal of two IPL franchisees is not in the best interest of remaining six teams either. The franchises are playing a wait-and-watch game before deciding the future course of action.
He said their main concern is revenue-sharing, which is their major source of income. However, he insisted the teams are not panicking yet. Its not fair to speculate. We do not know what is going to happen. But if the two teams are banned, then I cant see how we can go ahead with this season, the official said, requesting anonymity.
Welcoming the Supreme Court's proposal to suspend Chennai Super Kings and Rajasthan Royals, IPL governing council member Subir Ganguly hoped the BCCI boots out the two teams to ensure cricket is free of corruption but insisted theyll have to gauge the mood of other franchises before taking a decision. The state associations will lose out on Rs 10-12 crore each.
It would be a difficult decision and many issues will have to be dealt with. We've to see what the franchises are thinking, check if the BCCI can compensate them adequately, a new itinerary has to be chalked out and the number of matches would be less, said Ganguly. From sponsorship to broadcast rights, a lot of things have to be taken into account. Still, I believe that if the BCCI and franchises are willing, the show can go on.
With inputs from Mihir Vasavda and Ashish Sinha
Also read: Malaysia Airlines missing Flight MH370: Search teams fight fatigue, bad weather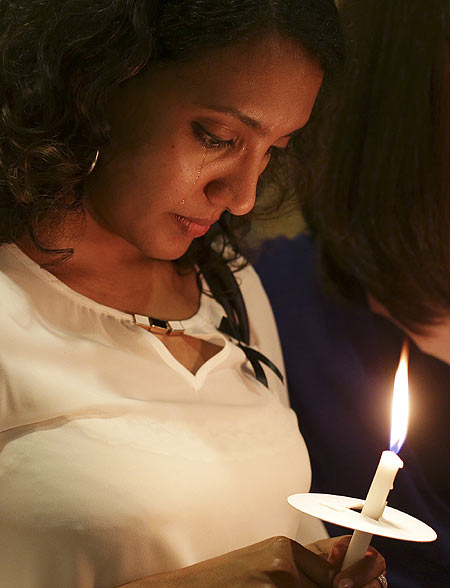 A woman breaks into tears as she joins a ceremony in memory of passengers on board the missing Malaysia Airlines Flight MH 370 in Kuala Lumpur, Malaysia. (AP)