The 11th Five Year Plan target of developing six new national inland waterways is unlikely to be met and the shipping ministry blames it on the Planning Commissions failure in approving the proposals.
The 11th Plan envisaged development of six national inland waterways. Although the government demarcated five such paths, the shipping ministry is unable to even start the work on developing two of them as Planning Commission has not approved the development plans till now, a senior government official told FE. In the absence of any approved plans for developing the two waterwaysnational waterway 4 and national waterway 5the ministry still awaits the sum of Rs 500 crore that it needs to carry out the work on the development. Planning Commission officials were unavailable for comments.
As a result of the delay in getting the Planning Commission approval and the development money, the ministry has suspended the plans for developing the sixth national inland waterway. Theres no point of going ahead with the sixth waterway when we are yet to receive the money for the development of the earlier two waterways, an official in the ministry said.
The two waterways-4 and 5 that have a total length of more than 1,700 km-were approved by Cabinet in November 2008 and the work on their development should have been started by now in order to complete the projects by the end of the Eleventh Plan. In other words, the government will fail in meeting the infrastructure target in the Eleventh Plan on one more count. Several infrastructure ministries, including power, railways and shipping, are already being questioned for the delay in completion of projects under their jurisdiction.
However, the ministry official said the plans on developing other three waterways are progressing at the desired pace. Work on developing the other three waterways is going on well, the official added.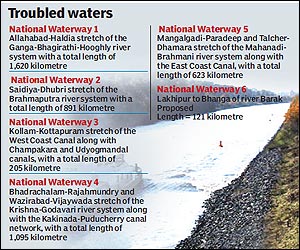 The Planning Commission, which recently undertook mid-term review of infrastructure projects in the railway, power, ports and shipping among others, cut the Eleventh Plan targets by upto 50% as the respective ministries could not get the results that government wanted.