UBS has downgraded Infosys from 'buy' to 'sell'.
We believe the next wave of growth for large Indian IT vendors will be led by infrastructure services and business process outsourcing (BPO). These account for less than 15% of NR Narayana Murthy-led
Infosys Ltd
' revenue compared with 25-35% for
Tata Consultancy Services (TCS)
(TCS) and
HCL Technologies
.
Infosys is now beginning to focus on these segments, but in the next two to three years, we think Infosys large base (nearly 85%) in the slower growing applications segments will remain a drag on revenue growth relative to peers. With recent commentary indicating the company is having trouble jump-starting growth in its base segment as well, we think a turnaround could take longer than expected.
Excessive focus on margins in a revenue-driven model could hurt market share: We are puzzled by the company's decision to report margin increases in the past few quarters, even as revenue growth trajectory has begun to slow once again. TCS and HCL Tech had reported margin drops for at least two to three years during phases of investment, after which margins recovered as revenue growth improved.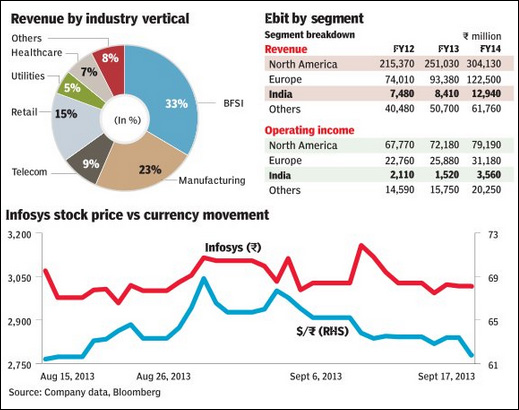 We were very appreciative of the company's margin reset in FY13 in a bid to gain market share and view the recent reversal in that strategy and curtailment in critical areas of spending such as sales headcount as premature and potentially risky to revenue growth.
Attrition and sales growth in a vicious cycle, unlikely to reverse soon: Infosys attrition is very high, with the company losing nearly one-fourth of its FY13 closing employee base in FY14. TCS has announced wage hikes of 10% offshore and 2-4% onsite versus 6-7% and 1-2%, respectively, by Infosys. This, and a softer revenue outlook, could lead to further spikes in attrition for Infosys in FY15. We believe these high levels of attrition will impact revenue acceleration, limiting the company's ability to beat its revenue guidance of 7-9% y-o-y despite improving demand.
Valuation: We downgrade Infosys from Buy to Sell and lower our price target from Rs 4,050 to Rs 2,750, which values the stock at 13x FY16e EPS (earnings per share), near its three-year low. We also lower our EPS forecasts for FY15/FY16/FY17 by 4%/11%/15% to reflect our lower revenue and margin estimates than previously.
Investment summary: We believe a turnaround for Infosys will take longer than currently expected by investors due to the following reasons:
(i) Infosys is underexposed to infrastructure services and BPO (around 12% of revenue, growing 15-17%), that are growing 30-35% y-o-y for its peers. Even if Infosys does increase growth in these segments, we believe its lower revenue exposure will keep consolidated revenue growth in the next two to three years lower than that of its peers with higher exposure to these segments.
(ii) The cyclical turnaround that we were expecting (the key reason for our previous Buy rating) is also likely to be muted, evident in slowing revenue momentum in its base business in H2FY14 and the tepid outlook for FY15. We believe the company is still unable to arrest market share losses with its key clients, which could be the key reason for its inability to accelerate growth in an improving demand environment.
(iii) We view the companys decision to report a margin increase before stabilising revenue and market share as a risk to its investments and longer term market share gains.
(iv) High attrition is a key risk to near-term revenue acceleration, in our view. With the quarterly asking rate for the top end of the revenue guidance (7- 9% y-o-y) already high at nearly 3%, we believe rising attrition could hamper Infosys' chances of a revenue beat in FY15. We believe Infosys' internal issues and strategic direction are the reasons for its slower-than-industry growth, rather than the external demand environment. We remain positive on demand in 2014 with our CIO surveys, channel checks and vendor commentary suggesting a recovery in the IT services market.
Risks: A better-than-expected cyclical demand recovery could result in near-term revenue spikes, leading to upside to our estimates. Given the sharp share price reaction to slight beats/misses in recent quarters, we think even a 0.5% beat in revenue could trigger a sharp reaction on the day of earnings
announcement.
Any weakness in the Indian currency, especially if the election outcome on May 16 disappoints the markets, could also act as near-term positive catalyst for the stock. In this scenario, it is likely that Infosys becomes a relative performer versus domestic benchmarks rather than yield meaningful absolute upside. For example, when the rupee fell from 61 to 68 against the US dollar in mid-August 2013, Infosys moved up only 1.5%, even though it outperformed the market by 9.5% in that period.
However, we think a sustainable depreciation of the rupee against the US dollar to the 65-70 level from 60-61 currently could act as a near-term catalyst as well as give the company the ability to correct its course, manage attrition-related costs and reinvest currency gains for revenue growth.
Basis for our price target: We downgrade Infosys from Buy to Sell and lower our price target to R2,750, which implies 13x FY16e EPS, near its three-year low. We expect the stock to derate relative to the sector from current levels. We also lower our EPS forecasts for FY15/FY16/ FY17 from R216.84/R237.58/ R262.53 to R208.99/R212.23/ R222.10, to reflect our slower revenue and lower margins estimates than previously.
UBS