At a time when diplomatic relations between India and Pakistan is at a low, the ice seems to have melted a bit on the tea front. New Delhi is now planning to invite a tea delegation from Pakistan almost a year after it had cancelled a high-power delegations visit to that country. India took that step following the Mumbai terror attack.
Meanwhile, the chill in Indo-Pak relationship after 26/11 seems to have made no impact on the export of tea to Pakistan as it has actually increased over last one year.
Basudeb Banerjee, chairman of the Tea Board of India, said: We have decided to invite a tea delegation from Pakistan next year. The last delegation from that country visited India in 2006.
Although Indian tea producers have been meeting buyers from Pakistan in different forums, a delegation from Pakistan would help in discussing bilateral issues related to tea trade, industry insiders feel.
The Jairam Ramesh-led delegation, which got cancelled after 26/11, was to discuss tea trade across Wagah border.
The delegation was to address a number of issues including how to ease the transportation to Pakistan. According to tea industry sources, Pakistani businessmen are interested in importing tea from India but they are look forward to quick transportation, as Indian tea takes 4-6 weeks to reach Pakistan.
The Karachi market in Pakistan is fed through the sea route traffic and the Islamabad-Lahore market through land route. Last year, the government was looking at possible transport of tea through the Atari-Wagah route.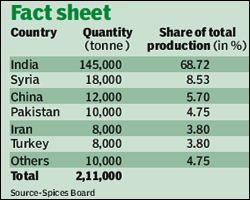 Although first six months export figures to Pakistan show a decline of almost 0.66%, Indian tea entering Pakistan has actually increased. Export of Indian tea to Pakistan has increased in last 12 months. While looking at tea export to Pakistan, one has to consider the amount of tea entering from Afghanistan too, Banerjee said.
According to Indian Tea Association estimates, tea export to Pakistan has fallen by 0.66% to 2.77 million kg during the first six months of 2009, from 3.43 million kg for the corresponding period last year.
But more than half of the countrys consumption is smuggled into Pakistan through the Afghan Transit Trade (ATT). According to the estimates of the Karachi Chamber of Commerce & Industry, 70 million kg were imported illegally to Pakistan via ATT last year.
Pakistan Tea Association estimates show that during August, legal import of tea was 131,262 packages and ATT import was 249,340 packages. While in September, legal import was 120,587 packages and ATT import was 97,833, around 88,000 packages were legally imported and 184,099 packages were imported via the ATT last month. There has been a dip in Kenyan tea import to Pakistan because of price escalation. This has increased demand of CTC from India, Banerjee added.