Indian rupee opened at record low of 64.90 per dollar against 64.11 on Wednesday.
The
Indian rupee
fell past 65 to the dollar to a record low on Thursday, after
Federal Reserve
minutes hinted that the U.S. was on course to begin tapering stimulus as early as next month and as foreign investors become sellers of Indian stocks.
In an ominous sign for Asia's worst-performing currency this year, overseas investors who had been net buyers of Indian stocks so far in 2013 headed for the exits this week, selling a net $500 million worth of shares in the four sessions through Wednesday.
Foreigners have also sold a net $1.3 billion of Indian government and corporate bonds so far this month.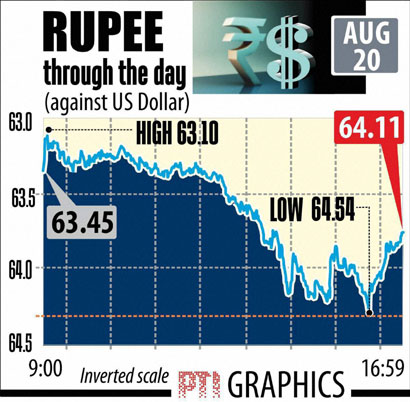 "Unless growth signals emerge in the next few quarters, FIIs (foreign institutional investors) will continue to pare down Indian equities, which will weigh on the rupee," said Deven Choksey, managing director of KR Choksey Securities.
The rupee fell as much as 2.2 per cent to 65.56, heading for a sixth straight session of declines, and is down 16 per cent so far this year despite efforts by policymakers to prop it up.
Currencies in Indonesia, Malaysia and Thailand all hit multi-year lows on Thursday on concerns that the Fed's scaling back of stimulus would lead to further capital outflows from emerging markets, which have benefited for the last two years from waves of cheap money printed by Western central banks.
Rupee buyers in the forex market seemed to be drying up, with the central bank suspected to have intervened in the last several sessions to support the currency, although dealers said its dollar selling was not substantial enough to stop the decline.
Meanwhile, some strategists made increasingly bearish calls on the rupee, with Credit Agricole saying that unless capital flows returned, it did not see the fundamental value for the rupee below 70 to the dollar and would not recommend buying it for fundamental reasons below 75. Deutsche Bank said on Wednesday the rupee could fall to 70 in a month or so.
The 1-month offshore non-deliverable forward contract was quoted at 65.83 compared to the onshore one-month forward of 65.49, suggesting offshore players are betting against the rupee.
The Sensex fell 0.2 per cent, and has lost some 12 per cent of its value over the last month.
The Reserve Bank of India (RBI)'s efforts to support the currency have failed to do so but have sent bond yields surging, pushing up borrowing costs and undermining an economy that grew at its weakest in a decade in the last fiscal year to March 2013.
Meanwhile, a weak coalition government facing national elections by May has been unable to push through structural reforms that would bring in more long-term foreign investment, with the current parliamentary session all-but paralysed by political bickering.
"Barring a galvanising economic crisis, pending tax, land acquisition and insurance reforms will likely be delayed for several years, providing no respite for India's faltering economy," Eurasia Group analyst Anjalika Bardalai wrote.
In what was seen as a partial roll-back that some market participants say sent a mixed message, the RBI late on Tuesday took steps to support a bond market which has been bludgeoned by its rupee defence steps.
Some analysts said the move was similar to the Fed's "Operation Twist" begun in 2011 to buy long-end bonds.
"Policymaking is essentially in a quandary, as the framework comprises of multiple and often conflicting objectives," said Radhika Rao, economist at DBS Bank in Singapore.
"To this end, a single-minded focus on correcting the currency's course entails collateral damage - dampens equity and bond markets and carries risks to growth," she added.
After tumbling on Wednesday, bond yields rose on Thursday, with the benchmark 10-year yield up 14 bps at 8.55 per cent. The BSE Sensex was flat after earlier marking its lowest intraday level in almost a year.