In a deviation from the trend seen last year, the rupee over the last three months has held its ground against a surging dollar even as the euro and the currencies of most emerging economies have lost significant ground.
The domestic currency has only fallen by 2.5 per cent over the last three months whereas the Russian ruble and Brazilian real have depreciated by 15.5 and 11.4 per cent in the same period.
Even the euro has lost 8.6 per cent against the dollar which means that the rupee strengthened against the euro during the same period.
While the Chinese yuan is the only major currency, among the developing economies, to have risen against the dollar during this period appreciating by 1.2 per cent, the Indonesian rupiah and the rupee fell by 2 and 2.5 per cent respectively, thereby emerging as the most resilient currency against the surge in dollar.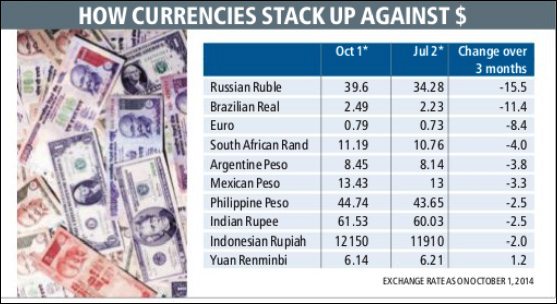 The rupee during this period has benefited a lot from the rising investor confidence in India which resulted in a strong inflow of funds ? both into Indian debt and equity.
In the three-month period between July, August and September the foreign institutional investors (FIIs) have pumped in an aggregate of Rs 79,149 crore into Indian equities and debt.
While the net inflow into equities stood at Rs 23,642 crore in the three months, that into debt amounted to a high of Rs 55,507 crore.
Even the foreign direct investments (FDI) during the period went up between June and August rising by 65 per cent (over the corresponding period last year) to
Rs 7,806 crore. The government received 99 FDI proposals in the three-month period out of which it approved 55 and rejected 16.
Experts say that the confidence on the rupee has been reinstated on account of several factors ? confidence in the governor of the Reserve Bank of India, a stable government at the Centre, softening crude prices and rising equity markets.
?The market has a lot of confidence on the new governor over the previous one. While last year speculators were speculating on big volatility on rupee, this time around they are only doing so within a range as there is a view that rupee will more or less remain stable,? said Hemal Doshi, chief currency strategist at Geojit Comtrade.
In 2013, in the five- month period between May and August the rupee fell by almost 25 per cent following a big outflow of FII money following fears of the US Federal Reserve tapering its quantitative easing programme.